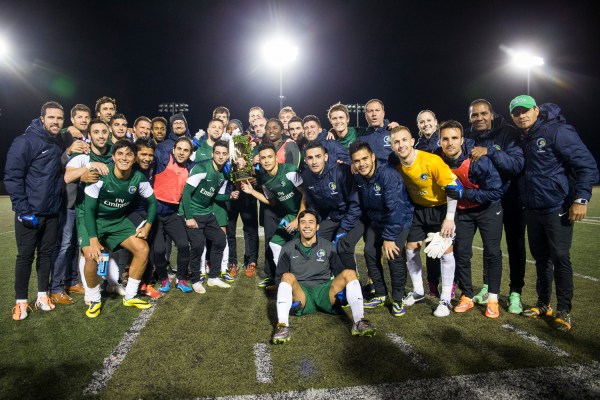 Photo by Fernando J. Tirado/Ventura County Fusion
By RYAN TOLMICH
Adam Moffat has made a career out of hitting long-range strikes, and it appears that the midfielder has carried his flair for the spectacular with him to the New York Cosmos.
The Scottish midfielder hit a 25-yard strike in the 12th minute, leading the Cosmos to a 1-0 victory over the Ventura County Fusion on Wednesday. The win marks the second in as many tries for the Cosmos, who topped the South China Football Team last week in a penalty kick shootout.
"We were able to give minutes to some guys who didn't get a lot of playing time in Hong Kong and I think offensively we were able to create a lot of chances," head coach Giovanni Savarese said in a press release. "We could have done a better job capitalizing on those chances, but I think we're showing that offensively we have more resources than we did in the past."
The Cosmos will be back in action Saturday against reigning USL Pro champions Sacramento Republic.
Here are some more of Thursday's NASL news and notes:
ALHASSAN SCORES WINNER FOR MINNESOTA UNITED
Just three days after officially being announced by the club, Kalif Alhassan is already paying dividends for Minnesota United.
The former Portland Timbers midfielder scored the game-winner for Minnesota United on Wednesday in a 1-0 victory over Indy Eleven. Alhassan's finish came in the first half, as the Ghanaian dribbled through the Indy Eleven defense before slotting past the goalkeeper.
"It was a good run and a good ball," Alhassan said."I think my teammates gave me a good opportunity to do that because some of there runs opened space for me to do that. Good credit to them and good credit to the team."
"The things we were working on, I think we did a pretty good job at today," added head coach Manny Lagos. "It's also good because this is a process of us trying to build both our fitness, the tactical side of what we're trying to do, get to know each other still and I think all of that was accomplished today."
Minnesota United are back in action Saturday against Sporting KC.
SCORPIONS SIGN ATTAKORA
Following last year's title run, the San Antonio Scorpions' title defense has been bolstered by the addition of a player with a wealth of experience in North American soccer.
The Scorpions announced Wednesday that the club has signed Canadian international Nana Attakora. The 25-year-old defender has earned nine caps for the Canadian senior team.
"I spoke with a few of the guys [on the team] that I have had the opportunity to play with, and they had nothing but positive things to say about the club," Attakora said. "I felt that the mentality here was perfect for me and the coaching staff, the players, and what they're trying to build and achieve here is first class. I just wanted to be a part of it."
Attakora started his career in 2007 with Toronto FC, for whom he scored four goals in 56 appearances. The Canadian's career has also taken him to stops with the San Jose Earthquakes, D.C. United and Finnish side Haka.
"Anytime a player is an active part of his national team's player pool, you take notice," said General Manager Howard Cornfield. "We're very pleased to be able bring a player of Attakora's ability to the Scorpions."
ROWDIES ADD GOALKEEPER CONTOFALSKY
Already in the midst of a busy offseason, the Tampa Bay Rowdies have made yet another addition by signing a goalkeeper with plenty of NASL and European experience.
The Rowdies announced Wednesday that the club has signed goalkeeper Kamil Contofalsky. The 36-year-old Slovakian shot-stopper played for the Fort Lauderdale Strikers in 2014 and made 18 starts while keeping five clean sheets.
"We're glad Kamil has decided to sign with the Rowdies," Head Coach Thomas Rongen said. "He's a proven, experienced goalkeeper with a track record of success in Europe. He adapted well to the NASL last season.  Our goal in building this team has been to have depth and balance all over the field.  Competition for starting places keeps all players sharp and that will benefit us tremendously."
Contalofsky previously featured for Russia's Zenit St. Petersburg, with whom he won the 2007-08 Europa League (then known as the UEFA Cup). In addition, Contalofsky has represented Slovakia 34 times on the international level.
—
What do you think of the Cosmos and Minnesota United's preseason victories? How will Attakora and Contalofsky fare with their new teams?
Share your thoughts below.