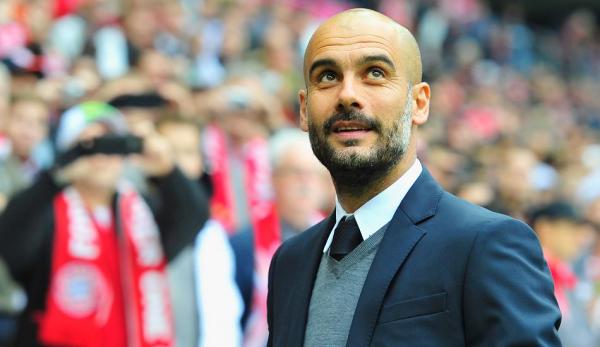 By RYAN TOLMICH
Pep Guardiola has experienced countless successes as a manager on the club level, but the Bayern Munich manager could reportedly take on a challenge of a whole new type heading into the 2022 World Cup.
German newspaper Bild reported Wednesday that Guardiola is being targeted to manage Qatar as the nation hosts the 2022 World Cup. Guardiola has a direct connection with the nation as the former Barcelona manager played for Al-Ahli for two seasons toward the end of his career.
Guardiola, whose Bayern side currently sits atop the Bundesliga, has brought the German club to Qatar during the league's winter break each of the past few seasons and has previously backed the nation's bid for the World Cup.
Here are some more news and notes to kick off your Wednesday morning:
AC MILAN RELEASE STADIUM PLAN
Although their standing on the field has slipped in recent seasons, AC Milan hope to be at the forefront of the world's teams when it comes to their new stadium.
AC Milan have revealed their plans for a brand new stadium, one that the club says will be "one of the most innovative stadiums in the world". The 48,000 seat stadium will include "a hotel, a sports college, restaurants, children's playground, green areas and spaces reserved to artists and citizens. "
The club also stated that the stadium, which will be accessible by public transport, is being targeted for a 2018/19 opening day.
The city's current stadium, the San Siro, which is shared by AC Milan and Inter Milan, will also continue to undergo renovations including restaurants, a museum, new seats and a new lounge.
Check out renderings of the stadium below:
Here are the first pics of the "New AC Milan Stadium" in the Portello-Fiera Milano City area, Pavilions 1 and 2 ©ARUP pic.twitter.com/MmTheEYbx4

— AC Milan (@acmilan) February 4, 2015
ALVES YET TO BE OFFERED A NEW DEAL, COULD DEPART BARCA
Dani Alves appears to be heading for a new home as his contract situation continued to stagnate.
The Barcelona fullback has yet to be offered a new deal by the club, causing Alves' agent to begin a search for a new club.
"They haven't contacted us," said agent Dinorah Santana. "I interpret that silence to mean they don't want Dani Alves, so we will begin searching for a new club. We won't wait for Barcelona, they have to take the plunge. Alves has spent seven years here and he has behaved like a professional at all times.
"Barcelona have not had a sports director for a month and Alves is free to negotiate with any club. Zubizarreta didn't tell us anything."
Alves joined Barcelona in 2008 and has claimed two Champions League titles and four La Liga titles during his time with the club.
QUICK KICKS
Klass-Jan Huntelaar has seen his suspension reduced from six games to four after a successful appeal. (REPORT)
The Confederation of African Football has suspended the referee who awarded a controversial penalty in Equatorial Guinea's 2-1 win over Tunisia. (REPORT)
Les Ferdinand has been appointed Director of Football at QPR following the departure of Harry Redknapp. (REPORT)
Nottingham Forest have been placed under a transfer embargo after not paying a fee to Petersbrough. (REPORT)
—
What do you think of the reports linking Guardiola to Qatar? What do you expect from the new AC Milan stadium? What teams would be a good fit for Alves?
Share your thoughts below.