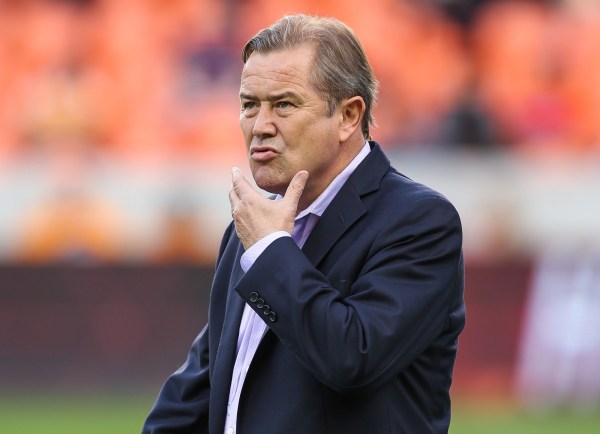 Photo by Troy Taormina/USA Today Sports
By MIKE GRAMAJO
SANFORD, Fla. — After suffering its first-ever defeat in MLS, Orlando City faces a new challenge going into this weekend. The club is losing seven players to international call-ups in the coming days and also dealing with some injuries, making for a depleted roster.
Orlando head coach Adrian Heath, however, sees no problem adjusting his lineup when Orlando City travels to Saputo Stadium to take on the Montreal Impact on Saturday.
"I've always said, 'One door closes (and) another one opens for somebody else,' and people can walk through the door," Heath told reporters during Orlando's Monday training. "There will be a number of opportunities for our players this weekend. We've played three games now, and I think I can confidently say we've been the best team in all three games."
If the Lions are to perform well again, they will have to count on their depth to help get the job done. Brek Shea (U.S. Men's National Team), Kevin Molino (Trinidad & Tobago), Darwin Ceren (El Salvador), Cyle Larin (Canada), Conor Donovan (U.S. U-20s), Rafael Ramos (Portugal U-20s) and Estela (Portugal U-20s) will all be missing for Saturday's encounter with the Impact.
There's hopes of getting back Colombians Carlos Rivas (hamstring) and Cristian Higuita (groin) from injury in time to play this weekend. Even so, the club's scoring woes form a question mark as to what the club is doing to address the situation.
"Two goals after three games is not ideal," said Heath. "I'm confident that once we get everybody on the same page on the final third, we'll score goals, people who traditionally score goals.
"We've got a few injuries, but we've got to get on with it. What I'm looking at is if we'd taken a point out of the game on Saturday, which we deserved, we'd probably been delighted with five points and no losses in the defeat column."
Pedro Ribeiro, who started on Saturday, could get the nod again this weekend in Larin's absence, while Heath said Danny Mwanga will see action against the Impact.
Another area of concern is left back, which has been occupied by Shea this season. Luke Boden, who traditionally played the position during Orlando's USL days, is set to fill in.
"Logically, Luke will come back," said Heath. "It's not going to be a shock that Luke will come in at left back position. It's a great opportunity for him, something he's been really working hard for."
With so many absences, Orlando City will need several role players to step up and perform if it is to bounce back this weekend. But the club is not worrying too much about who will be missing and instead is focusing on who is willing to contribute.
"It is what it is, we just got to get on with it," said Heath. "There's no good moaning and thinking about (what) we might have, well this is what we got so let's make the best of what we can. By Wednesday we'll have a team in mind for the weekend."