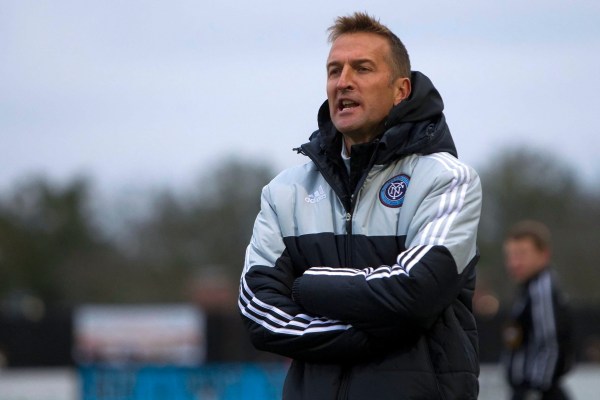 Photo by Joshua S. Kelly/USA Today Sports
By MICHAEL PENG
PURCHASE, N.Y. — One can point to the fact that if it wasn't for a deflection on a Kaka free kick in Orlando, New York City FC would have had two clean sheets to begin its inaugural MLS season, but Jason Kreis isn't quite one of those people.
"From a statistical point of view, you walk away from both games and you say, 'If we were able to erase that goal in Orlando,' you'd have two shutouts and you can be pleased with that," the NYCFC head coach told SBI at the club's training at SUNY Purchase on Thursday. "But from a more analytical point of view, we are still giving up too many clearing chances. Both games, the flip side to them, is that we really should've been scored on a few times."
Kreis has a point. NYCFC had to make 26 clearances in the 1-1 draw against Orlando City in Week 1, and 41 more in last Sunday's 2-0 home win over the New England Revolution.
Kreis and defender Jason Hernandez both believe that those tense defensive stretches came after the team became complacent with a lead.
"I think as far as this past week, after scoring the goal, we kind of sat on our heels a little bit and let the game be dictated by the other team," Hernandez said, "and I think the more we keep our aggressiveness and our foot on the pedal and controlling the tempo of the game, I think a lot of those chances will be eliminated."
Hernandez is a part of a starting back line that features several MLS veterans, one that also includes Chris Wingert, Josh Williams and Jeb Brovsky. And while many were skeptical about them being able to gel in the early going of an expansion season, Hernandez pointed to each of their experiences as an edge.
"I think one of our advantages is that Jason (Kreis) and (sporting director Claudio Reyna) put a team together that is very much designed for MLS and experienced for MLS," said Hernandez. "We all understand how the league works, so from that standpoint, it has made the process a little bit easier.
"But I would say in a general rule of anything new that is being thrown together, we are still trying to learn each other and feel each other out and gain that chemistry week in and week out, but it's been so far so good."
As for the offense, Kreis has been pleased with what he has seen from his club so far, and the production off the bench from the likes of rookie Khiry Shelton and Patrick Mullins — who scored the second goal against New England on Sunday — has gotten his attention.
"From my point of view, players that come off the bench and perform well should be considered for more and more opportunities," Kreis said. "We have a lot of players actually that are considered every single week and will continue to be summoned."
NYCFC returns to the field this weekend, taking to the road to play the Colorado Rapids on Saturday.