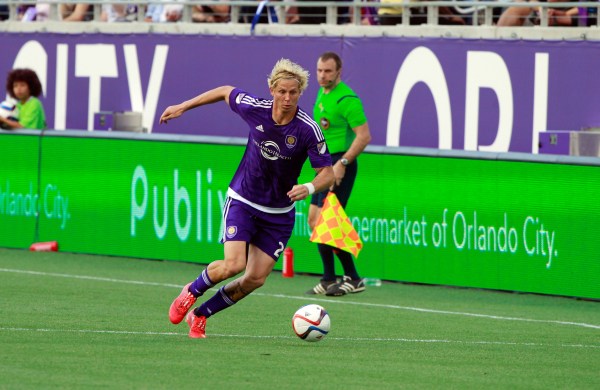 photo by Kim Klement/USA Today Sports
By FRANCO PANIZO
Never shy of being critical of his players or MLS, U.S. Men's National Team head coach Jurgen Klinsmann has had nothing but positives to say about the first two weeks of the league's new season.
In fact, Klinsmann is particularly pleased about the way several of his players have performed.
The MLS season is just two-weeks old, but already U.S. players are making big impacts for their respective clubs. Clint Dempsey has picked up where he left off last year by scoring three goals for the Seattle Sounders, Nick Rimando continues to be his stellar self in goal for Real Salt Lake, and Jozy Altidore and Mix Diskerud have shown promising things with their new teams.
Klinsmann has been encouraged by a lot of what he has seen so far, including the play of Orlando City's Brek Shea. Through two games, Shea has helped the expansion club go 1-0-1 while playing from the left back spot. It's been a solid start for a veteran player who was recently in European purgatory, and makes Shea seem like a shoo-in for the U.S. roster for the upcoming friendlies vs. Denmark and Switzerland.
"Brek Shea has the potential to become a very, very strong left back," said Klinsmann in an interview with USSoccer.com. "He's obviously a guy that always wants to go forward. He can score goals. He can create goals. If he learns the defending side of the game – being very physical, very focused, being connected to his center back and holding a line, getting all the tactical elements for what it takes to be a good defender – it adds that card into his portfolio and the coach from Orlando can choose where to play him, we can choose where to play him.
"It's just great to see. We started that process in the January camp and Orlando took it over. We stay in touch with each other. It can only get better."
Shea may have earned praise from Klinsmann, but he is hardly the only MLS player that the German-born coach has been impressed with. Dempsey and Rimando are other players Klinsmann mentioned by name after seeing them deliver for their respective clubs, and so were Altidore and Diskerud.
The latter two started the newest chapter of their careers by debuting for their new teams in Week 1 of the MLS season, and each of them grabbed headlines by finding the back of the net. Altidore bagged a brace to help Toronto FC to a 3-1 road win over the Vancouver Whitecaps, while Diskerud netted the first goal in expansion side New York City FC's history in a 1-1 draw with Orlando.
"Seeing Jozy Altidore getting on the scoring side of it right away was very important," said Klinsmann. "He had a tough time the last 18 months in the Premier League, and for him it's an awesome feeling to start right away with two goals. We all know what Jozy can do when he's healthy and fit. Hopefully he's off to a fantastic season.
"It's also great seeing Clint get going from the start, and Mix Diskerud with New York City Football Club scoring the first goal for that new franchise is exciting. It's a lot of promising stuff."
While MLS has grabbed much of the spotlight these past two weeks, Klinsmann is also plenty aware of how his European-based players are doing. He's been keeping tabs on them through the customary methods of watching their games from afar or sending members of his staff to see matches in person.
Two players that have really impressed are defenders John Brooks and Timmy Chandler, who are regularly contributing for their German Bundesliga clubs. It's a fresh of breathe air for Klinsmann to see Brooks and Chandler serve as such integral parts of their teams' plans, especially given the spate of injuries that have occurred to Americans in Germany this year.
"It's great to see John Brooks playing week in and week out and consistently being a starter," said Klinsmann. "He's getting very good reviews over there. Matthias Hamann, Andi Herzog and Berti Vogts are all looking after our players in Germany and have seen a lot of good stuff. Timmy Chandler after the World Cup was struggling a bit to get his starting spot, and now he is always in the starting lineup. He's playing consistently on a good level, so that is very promising.
"It's a pity seeing a few players injured in the German environment, if it's Terrence Boyd, Joe Gyau, and Bobby Wood. They are having a tough time getting through their injuries now."
Recently recovered from a knock of his own, Aron Johannsson has begun to find a rhythm in the Eredivisie. Johannsson has scored three times in his last five appearances for AZ Alkmaar, and is looking more and more like the player that finished with 17 league goals last season en route to making the U.S.'s World Cup roster.
"We had Aron Johannsson watched by Andi Herzog," said Klinsmann. "We are glad to see Aron back in the mix and getting his games, even if it's not always as a starter yet. He had a rough time after the World Cup with injuries. It took him a long time to get back in the picture, but once he gets back on the field he's always smelling the goal and scoring.
"That's what a goalscorer is all about – he has to prove his point by putting the ball in the net. That's what Aron is doing. We are looking forward to having him back in our group."