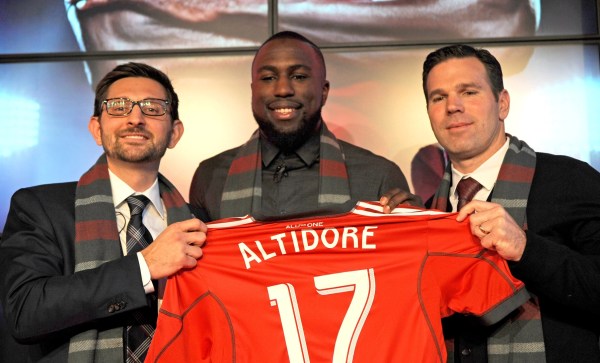 Photo by Dan Hamilton/ USA Today Sports
By RYAN TOLMICH
For forward Jozy Altidore, the offseason move to Toronto FC was all about chances, both literally and figuratively.
As a member of Sunderland, in-game chances were few and far between for the U.S. Men's National Team forward. Playing in a team constantly facing a relegation scrap, the opportunity to score goals, quite frankly, wasn't there, leading the forward to a paltry statline of just one goal in 42 appearances.
The inability to convert the limited opportunities that came his way saw the 25-year-old forward relegated to a highly limited role, as the forward's games came few and far between as his run with the Premier League side came to a close.
Now a member of TFC, Altidore has been given a new chance, a new opportunity and a new start. Having frequently displayed his talents on the national team, head coach Greg Vanney is looking to replicate that form on the club level. That form, Vanney says, begins with providing Altidore with what he lacked so desperately at Sunderland: opportunity.
"If anything, I'm excited about it," Altidore said to GOLTV Canada. "I think we've done a lot of work in the preseason and everybody's itching to play. At the same time, we'll still have some things to workout as the season goes on because it's a new bunch of guys, but I think the talent is there. There's a special feeling around the group so I think everybody's looking forward to that."
Vanney, quite frankly, is looking forward to utilizing Altidore in the season ahead. While the forward was left bereft of opportunities in England, Vanney says that Altidore will receive chances in bundles this year with TFC.
"For him, it's no need to really press or feel like he needs to do anything more than he's fully capable for of doing and for us," Vanney told SBI. "It's to just keep giving him opportunities and repetitions in and around the goal and helping him to understand, know and be confident that he will get chances based on how we want to play. All he has to do is show up in the right places at the right time and let his instinct take over because he's a goalscorer.
"He's done it plenty of times in his career, so there's nothing new to it. He's got a lot of guys who are good providers as well, and that's part of being a goalscorer is who's providing that final pass that's coming, the type of final pass you can finish. He's got plenty of guys who can do that for him and he's a hard worker, so he'll get plenty of opportunities."
One of the guys tasked with being a provider to Altidore is his U.S. Men's National Team running-mate, Michael Bradley. Coming off his first season with the club, Bradley has been chosen as the club's captain, and is now tasked with helping Altidore acclimate to his new side.
That process has been made all the easier by the duo's relationship, as the pairing of the two has proven fruitful numerous times throughout their international careers. That relationship, Vanney said, was one of the chief reasons the club went out to add the forward in the 2015 offseason.
"That was something that we knew was an added bonus," Vanney said. "When you look for Designated Players, you want to be as certain as possible when you're putting resources into those positions and we knew that one of the big reasons with Jozy was the quality of player he is, quality of person he is and that we know with certainty who he is and he's going to fit in with our group.
"We know his relationship with Michael and a number of things that are already known and that, to me, is priceless."
That "priceless" relationship is sure to bring certain expectations. Having never been to the MLS Playoffs, TFC are now looking at the USMNT duo to lead the charge into the postseason.
Altidore, for one, is embracing that pressure, citing the fact that he and Bradley have been dealing with those type of expectations since coming up through the ranks as budding prospects.
"The target has been on my back and Mikey's back since we were 16 or 17 , so it's nothing new," Altidore said. "It's exciting because nobody wants to play where there aren't expectations. Everybody will be looking at us to see how we perform, so we're looking forward to it.
In addition to the duo's on-the-field relationship, Vanney says that the two's off-the-field work ethic has already proven to be a key cog in an ongoing culture change in Toronto.
Vanney says that the pair, along with fellow DP Sebastian Giovinco, have brought an increased work-ethic and drive to the team, one that Vanney believes is integral in TFC's build-up to the season.
"You can see off the field that the way the two of them work, in addition to the other guys that we added, they're all hard workers and they're all the right personalities that fit together and want to be successful as a group," Vanney said. "It's what drives the culture and when all of those guys and all of the veteran guys, when everybody is working, it's very hard for anybody else that is new to the club to come in and go "I'm going to take the day off", because nobody in our group takes the day off.
"It helps us to really drive the culture that we're seeing and those two guys are very important in that."