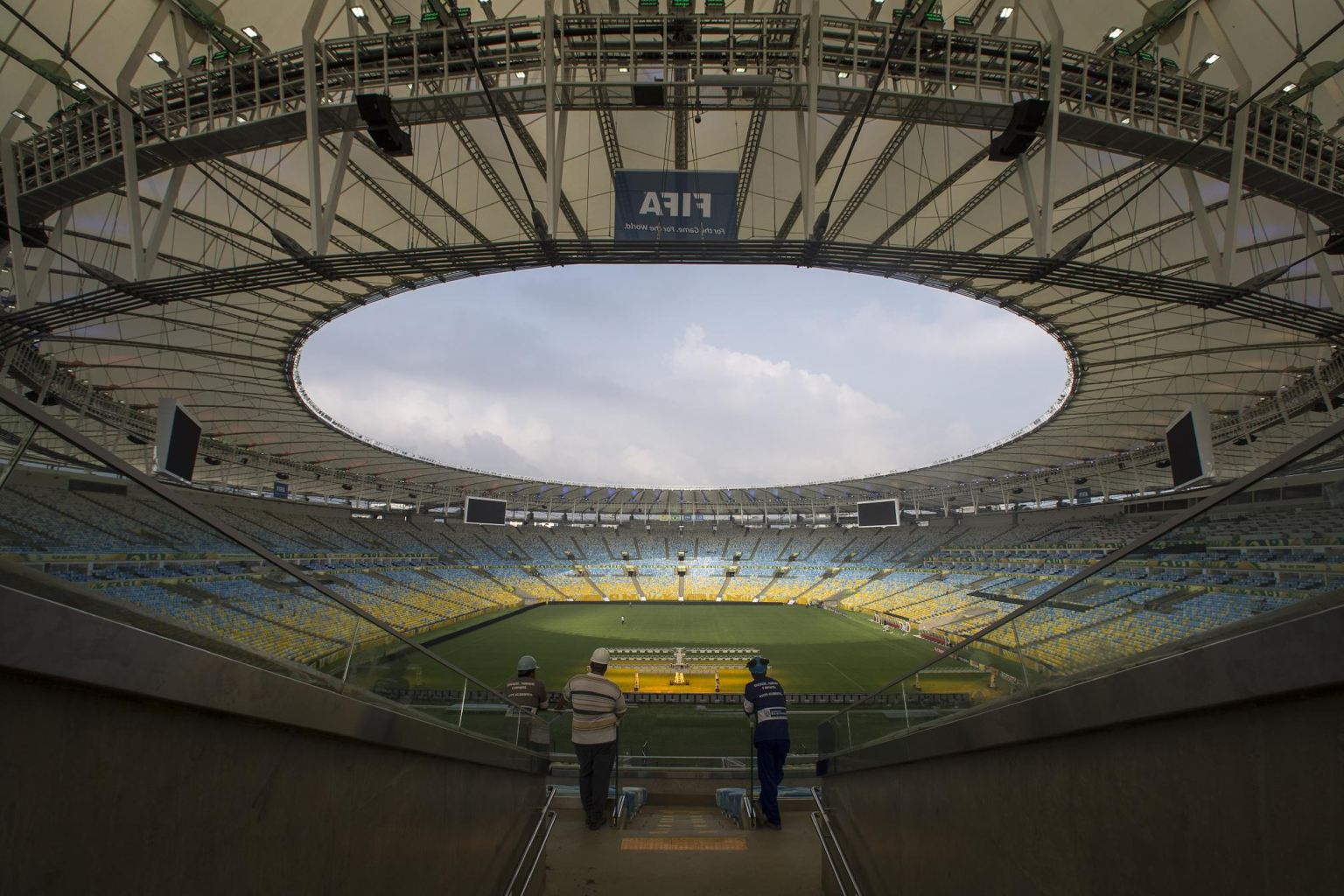 By MATT STYPULKOSKI
FIFA has announced the seven stadiums, spread across six Brazilian cities, that will be used for the 2016 Olympics.
Both the Maracana and the Olympic Stadium in Rio de Janiero – the host city – will be used.
The Mineirao Stadium in Belo Horizonte, the Mane Garrincha National Stadium in Brasilia, the Arena Amazonia in Manaus, the Fonte Nova Stadium in Salvador and the Arena Corinthians in Sao Paulo will also host matches.
"They did an excellent job in 2014 and now they can use the World Cup stadiums and infrastructure already in place to unite the country for a major event once more," Marco Polo Del Nero, chairman of the organizing committee for soccer at the Games, said in a release.
The full schedule of matches has not yet been released and the site of the Olympic finals is not yet known. FIFA has said that a detailed schedule will be released at a later date.
Here are some more of Monday afternoon's news and notes:
SUNDERLAND FIRE MANAGER POYET
Less than a year after helping Sunderland perform the fabled "Great Escape," Gus Poyet won't be given the chance to try and save the club again.
The Sunderland manager was fired on Monday, despite having signed a new two-year contract this past May. The club has struggled once again this season under Poyet and currently sits 17th in the English Premier League table, just one point clear of the relegation zone.
"Sadly, we have not made the progress that any of us had hoped for this season and we find ourselves battling, once again, at the wrong end of the table. We have therefore made the difficult decision that a change is needed," Club chairman Ellis Short said in a statement.
The announcement comes after an especially poor run of form, in which Poyet's side won just one of its last 12 matches. Sunderland suffered a 4-0 home defeat to Aston Villa on Saturday.
TALKS STALL BETWEN DANISH FA, PLAYERS' UNION
Negotiations between the Danish Football Association and the Danish players' union appear to have hit another roadblock.
After several years of losing money, the Danish FA, known as DBU, has been trying to lower the national team's player wages by 17 percent. DBU had been reticent to allow players to collectively bargain during the process, but recently gave in to those demands. Now, the DBU claims that the players' union (Spillerforeningen) is requesting more money.
"It's a very strange situation. We have always been open about DBU's economic problems and suddenly we are met by a requirement that Spillerforeningen want more money for the national teams," DBU communications manager Jakob Hoyer said in a statement. "It is completely unrealistic and seems far different the signals that have come from the national team players, who have said that the collective agreement was decisive — not salaries."
If the DBU and Spillerforeningen cannot come to an agreement, it could threaten Denmark's upcoming friendlies against the United States and France. But despite the turmoil, Hoyer seems hopeful that those games will still take place, potentially under the auspices of a temporary deal with players.
JUVENTUS NOT INTERESTED IN SELLING POGBA
Juventus general director Giuseppe Marotta is squelching rumors that Paul Pogba may be on the way out.
The 22-year-old midfielder has been linked with a number of clubs, including Paris Saint-Germain, Manchester City, Chelsea, Barcelona and Real Madrid, but according to Marotta, Juventus has no desire to sell.
"There are clubs that are ready to spend 70 to 80 million euros for Pogba," Marotta told Italian radio station Radio Deejay. "There are many suitors for Pogba, but we do not want to open negotiations and we want him to stay with us. If we want to increase our level, we need players of great quality and Pogba is one of them."
Pogba, who moved to Turin from Manchester United in 2012, is currently under contract with Juve until June 2019.
QUICK KICKS
Franz Beckenbauer has criticized Bayern Munich's Franck Ribery and Jerome Boateng for losing their on-field behavior. (REPORT)
Jose Mourinho Jr. took to Instagram to chastise Chelsea fans for their harsh comments about Cesc Fabregas. (REPORT)
A study by the CIES Football Observatory has found that Europe's richest clubs are spending more than ever before. (REPORT)
—
Where would you like to see the Olympic finals played? What do you think of Sunderland firing Poyet? Are you worried about the U.S. friendly with Denmark?
Share your thoughts below.