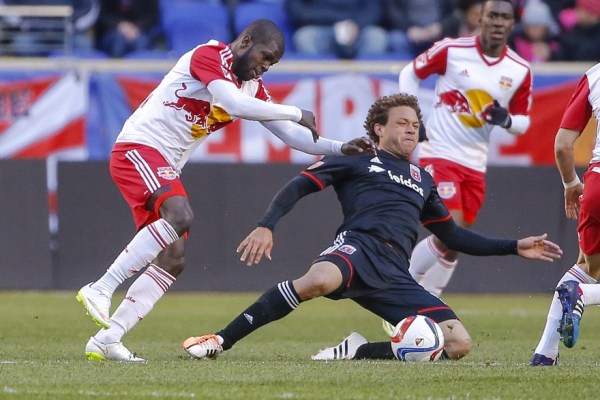 Photo by Jim O'Connor/USA Today Sports
By MATT STYPULKOSKI
HARRISON, N.J. — Just one match into the season, the New York Red Bulls were forced to make two changes to the backline.
Injuries forced both Roy Miller and Ronald Zubar out of Sunday's matchup with rival D.C. United and put Kemar Lawrence and Matt Miazga in their place. Neither player missed a beat and the backline, which was deemed the Red Bulls' biggest weakness entering the season, held strong to keep the shutout in a 2-0 win.
"I think we did well," right back Chris Duvall said. "We practiced with this backline all week and in the system we're playing, everyone knows their role. So it's easy for guys to jump in, even though they weren't in the starting lineup (last match), and adjust because they know what's expected out of them."
The clear definition of each players' role as a key to the success was a common theme after the match, with each player on the backline – and head coach Jesse Marsch – dropping the phrase.
"Roles on the field are clear," Marsch said. "We try to play to guys' strengths and put them in situations on the field that make them good and to help them understand how to play with each other, how to know each other. That's what was so great about tonight. I felt that Sal Zizzo (who replaced Mike Grella in the midfield), Kemar Lawrence and Matt Miazga came into out team and we didn't skip a beat. They looked like they'd been playing there for years. That's the goal."
Since the moment Marsch was hired in the offseason, getting each player familiar with his role has been a major part of the process. According to Miazga, that means knowing exactly what is expected of each position, the qualities and characteristics needed at each spot on the field and how to implement the game plan in that role.
The result of that prep work is that players are required to think less and simply play when their number is called.
"A lot of work (goes into it)," Lawrence said. "And you have to give credit to the coaching staff. They're a great coaching staff, equipment staff, everyone comes into play. Everyone works very, very, very hard and they just make us as comfortable as possible. We do our work in training and in games we just try to make it look as easy as possible."
In the case of Lawrence, the system worked perfectly. Though he has been training with the team for several weeks, the left back signed just six days prior to his first start. But that didn't hinder him from a strong performance and one that he was plenty pleased with.
"Out of 10 I would probably give myself a 7.5 or 8," Lawrence said. "I definitely think I could do better, but it was my debut and I did what was needed to win and the team did what was needed to win. So I'm comfortable with today."
But that doesn't mean that the work is done. A clean sheet against their biggest rivals is nice, but the Red Bulls are still working to clean up a few missteps, like the penalty Miazga conceded in stoppage time.
"I kind of was naive and tried poking it away," Miazga said. "But me and (midfielder Dax McCarty) talked about it after the game. That's the good thing about, I can talk to the guys about how to improve on it."
And as the season goes on, the goal is to improve the unit's cohesion to snuff out any and all opposition attacks.
"Our communication is going to be important," goalkeeper Luis Robles said. "The way we talk to each other, the way we stay in line and engage one another in those environments, especially in really tough games when it's going to come down to the last minute, the way we communicate is going to be very important. So that's something that could always be better."