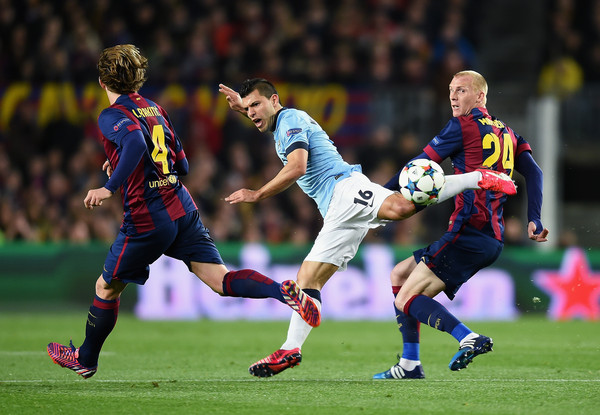 By AARON CRANFORD
Barcelona and Juventus are the last two teams into the UEFA Champions League quarterfinals after both claimed wins on Wednesday.
Barcelona topped Manchester City 1-0, 3-1 on aggregate, and the Spanish giants did so in style. The first half was utterly dominated by Barca, and City could not produce many fruitful attacks all evening.
Meanwhile, needing just one goal and a shutout in its own stadium, Borussia Dortmund could not complete either task. Juventus thoroughly manhandled the German side, 3-0, 5-1 on aggregate, with Carlos Tevez netting a brace and claiming an assist on the night.
Just three minutes into the match, Tevez fired a rocket past a helpless Roman Weidenfeller, deflating the atmosphere in Dortmund for the whole match.
Alvaro Morata tallied the Italian club's second of the night when Tevez coolly slotted the ball to his attacking partner in the 70th minute. And nine minutes later, the Argentine found his brace after smashing the ball past Weidenfeller for the third time.
Over in Spain, Lionel Messi wowed Camp Nou and spectators around the world with his first-half display. Nutmegging not one, but two Manchester City men, the Argentine also pinpointed Ivan Rakatic across the field in the 31st minute.
The Croatian calmly chested the long ball and chipped the on-rushing Joe Hart, who performed admirably well throughout the evening, saving 10 shots.
But needing three goals, City had a tall task ahead of them as they entered the second half, and the English side could not create too many opportunities to score. Their best chance of the night came from the penalty spot, but Sergio Aguero could not break through there either as Marc-Andre ter Stegen dove to his right to save the blast from the City forward.
The UCL draw to determine quarterfinal pairings will take place on Friday.
—–
What did you think of these results? How do you think Barcelona and Juventus will fare in the next round? See Dortmund's and Manchester City's efforts as a disappointment?
Share your thoughts below.