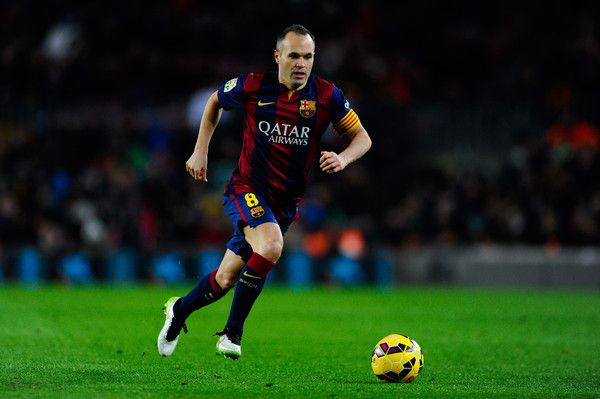 By DAN KARELL
Barcelona's busy week begins on Wednesday when they host Manchester City in the second leg of the UEFA Champions League round of 16.
Barca lead Man City by a 2-1 margin, with two away goals from the first-leg victory at the Etihad Stadium, but midfielder Andres Iniesta believes that the upcoming game against the defending English Premier League champions is more important than the one coming on Sunday, against arch-rival Real Madrid.
"We feel confident about these two games but we also know we'll be playing against two very difficult opponents" Iniesta told reporters. "Perhaps tomorrow's game is more important. And what better way to prepare for a game like Sunday's than with a win against (Man) City? On Thursday we'll start preparing for Sunday."
"(Man) City have the kind of players who can turn this tie around. We have to go out with the same intentions as we did for the first leg and show that we are a team that is intent on qualifying for the next round."
Barcelona are looking to make the quarterfinals of the Champions league for the eighth successive season.
Here are some more stories to kick off your Tuesday:
SUNDERLAND APPOINT ADVOCAAT
Sunderland have found a quick replacement for Gus Poyet, at least until the end of the season.
The Black Cats announced early Tuesday morning that they've hired veteran Netherlands head coach Dick Advocaat to a short-term contract through the end of the season to manage Sunderland and help them achieve English Premier League survival.
"Dick has an incredible CV and vast experience of managing at the very highest level," Sunderland's American chairman Ellis Short said in a statement. "We have one aim only now – to climb the table and everyone is fully focused on the task ahead of us."
Advocaat has had numerous coaching stints with both national teams (Netherlands, Russia, South Korea, Belgium, UAE, Serbia) and clubs (Zenit, Rangers, Borussia Mönchengladbach, PSV Eindhoven, AZ Alkmaar). He most recently coached Serbia last fall but after three very poor Euro 2016 qualification games he agreed with the Serbian FA to terminate his contract.
Sunderland are just one point outside of the relegation zone.
BHUTAN ADVANCE IN WORLD CUP QUALIFYING
Bhutan, ranked 209th and last in FIFA's World Rankings, made national history on Tuesday.
Facing Sri Lanka in the second leg of the first round of Asian Football Confederation qualification for the 2018 World Cup in Russia, Bhutan defeated Sri Lanka, 2-1, at the Changlimithang Stadium in Bhutan's capital of Thimphu, setting off celebrations across the country and specifically on the field.
Last week, Bhutan defeated Sri Lanka, 1-0, in Columbo, Sri Lanka for Bhutan's first ever World Cup qualification victory. Bhutan hadn't won a single game since defeating Afghanistan in 2008.
Joining Bhutan in the second round of AFC World Cup qualification is India and Timor-Leste. The second round of qualifying includes the rest of the top AFC soccer nations, including Iran, Japan, South Korea, and Australia. Teams will be competing not only for the 2018 World Cup but also qualification for the 2019 Asian Cup in the United Arab Emirates.
The second round of qualifying is from June 11 through March 29, 2016.
QUICK KICKS
For the first time since tearing his anterior cruciate ligament last August, Bayern Munich midfielder Javi Martinez is working with a ball in light training at Bayern's training facility. (REPORT)
AC Milan boss Filippo Inzaghi is expected to remain manager for this Saturday's game against Cagliari despite falling to Fiorentina, 2-1 on Monday. (REPORT)
West Bromwich Albion goalkeeper Ben Foster is set to miss the next four weeks after suffering a knee injury. (REPORT)
Borussia Mönchengladbach's Max Kruse is open to staying at the club for next season, despite having a €12 million buy-out clause this summer. (REPORT)
China has revealed their ambitions to one day host a World Cup. (REPORT)
———————-
What do you think of this news? Do you see Barcelona taking care of business against both Man City and Real Madrid? Think they'll be too focused on Real Madrid? Do you see Advocaat saving Sunderland's season?
Share your thoughts below.