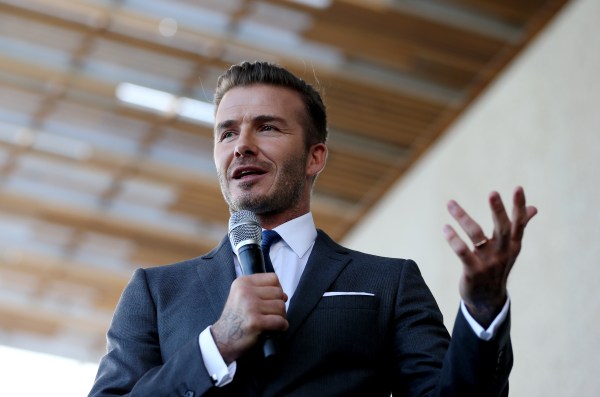 Photo by Robert Mayer/USA Today Sports
By FRANCO PANIZO
David Beckham is back in Miami, and a buzz about the city's chances of landing an MLS team is growing again.
Beckham has been spotted in the South Florida metropolis over the last couple of days, and is reportedly meeting with business partner Marcelo Claure behind closed doors to discuss stadium locations for their proposed MLS franchise. Beckham has apparently even approved the use of land near Marlins Park just west of downtown Miami for his soccer-specific venue.
Earlier this month, the Miami-Dade County commission agreed to propose that location to Beckham as a site for the stadium that he and his group of investors need to gain entry into MLS.
"He mentioned (the site)," Miami Beach mayor Philip Levine told the Miami Herald a day after he was seen with Beckham at fashion guru Tommy Hilfiger's birthday party. "I think he has a sense of openness and willingness to anything."
The global icon and his group had previously been opposed to constructing a stadium near Marlins Park — with Beckham's partner Simon Fuller calling it "spiritually tainted" — but the group has run into frustrating problems finding a suitable place to build a stadium for much of the past year.
That has led Beckham and his investors to reassess all their options in Miami, and the land near Marlins Park looks to be on the table now. Marcelo Claure — another of Beckham's partners in pursuit of the MLS franchise — reportedly talked to Miami mayor Tomas Regalado last week about the site near the baseball stadium and another one in Miami's Overtown neighborhood.
"(Claure) said, 'We've been looking for sites and we need to have answers in the next few weeks,'" Regalado told the Miami Herald. "He didn't say we want to do it here or there. He said, 'We need to make a decision in the next few weeks.'''
The MLS expansion race has ramped up in recent weeks. Minnesota United of the NASL is expected to land the third of four franchises that MLS wants to add by the end of the decade, and USL side Sacramento Republic has increasingly drawn attention with its bid.
Miami is competing with Sacramento for the 24th franchise, but seems to be the preferred option. MLS commissioner Don Garber said over the weekend he and league officials plan to head to Miami in a couple of weeks to try and hammer out a deal that would give Beckham a suitable stadium plan.
—–
What do you make of Beckham being back in Miami? Think the location near Marlins Park is as good as it will get for him and his group? Starting to believe that Miami will get the next MLS franchise over Sacramento Republic?
Share your thoughts below.