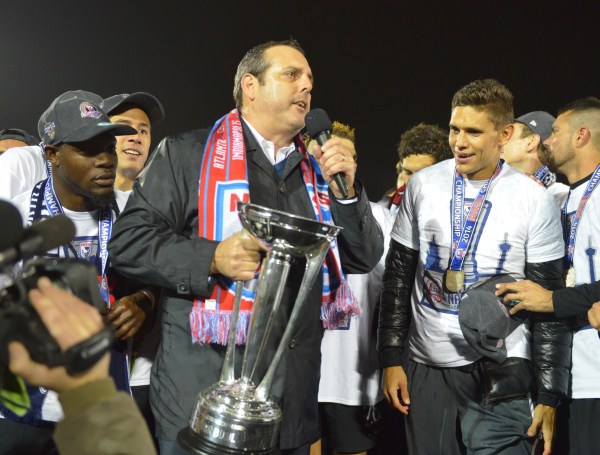 photo courtesy of NASL
By FRANCO PANIZO
There's a tone of disappointment in Bill Peterson's voice when talking about Minnesota United's decision to join Major League Soccer, but the NASL commissioner is as convinced as ever that his league is at the highest level domestically.
Minnesota United announced its decision to join MLS in 2017 or 2018 at a press conference last week, a decision that was greeted with plenty of fanfare across the United Sates and Canada. The club's bid had not only beaten out several others in places like Sacramento and Miami for the league's 23rd franchise, but also a local one orchestrated by Minnesota Vikings owner Zygi Wilf.
But what was largely glossed over during the formal announcement made at Target Field was that NASL, the league that Minnesota United currently plays in, was losing one of its marquee clubs. It's a move that undoubtedly hurts NASL, but one that the league and Peterson are focusing on gleaning positives from. One Peterson believes further legitimizes NASL as a top league.
"I think this proves that our teams and our owners are at the highest level and the stuff of Division 1, Division 2 with no competition to determine that really doesn't make sense," Peterson told SBI. "Last Wednesday at 10 in the morning that club was in NASL, and at 2 o'clock in the afternoon it was in a different league. The only thing that changed was some cash exchanged hands. Nothing else changed."
For years, NASL has tried to fight the stigma that it is the second-division league in the United States and Canada. It is, of course, officially listed as such within the U.S. Soccer pyramid, but many of the league's officials and biggest advocates have argued that such a distinction cannot be made since without a promotion-relegation system in place.
Peterson has long agreed with that stance, and his belief in that has only strengthened since Minnesota United's MLS announcement
"I think it's hard for anyone to argue that we're some lower division when our clubs can move like that, at a drop of a check," said Peterson. "…It's the state of soccer in the United States right now, where it's not about competition yet. It's about money. They've made their decision, we wish them well and we'll keep moving forward."
NASL will likely do so in the short term with Minnesota United in tow. There was initial speculation that the league could rid itself of the club during the years leading up to Minnesota's MLS arrival, but Peterson said NASL has no issue with allowing United to continue to play in the league.
What NASL will have to consider is whether or not it keeps a club in a market it has done so well in. By Peterson's admission, that's unlikely in the case of Minnesota, but NASL will gauge interest in potential ownership groups before determining which route to take.
"We don't make any decisions based on what other leagues do. I can guarantee you that," said Peterson. "We make decisions based on what's best for the long-term growth of NASL, and we're okay with multiple teams from multiple leagues being in the same city. We're okay being in cities where we don't have other teams, but we're going to look at ownership groups, and market places and make the decisions that are best for us.
"We still feel that trying to make decisions based on what other people are doing, it's just not going to make sense today, because the sport right now is more about where is an interesting ownership group rather than anything else."
With MLS planning to expand to 24 teams by the end of the decade and possibly more after that, NASL may soon have to contend with competing for attention in or near markets where MLS has teams. The New York Cosmos already do so with MLS's New York Red Bulls and New York City FC, and the Atlanta Silverbacks will face that challenge when an MLS expansion franchise takes to the field in that city in 2017.
There are other cities like Ft. Lauderdale and San Antonio – where NASL's Strikers and Scorpions play, respectively – that could soon be in similar situations. MLS is continuing to try and hammer out a stadium deal for a Miami franchise that David Beckham would own, and San Antonio keeps getting mentioned as a city that has potential for future MLS expansion.
Peterson and NASL are unfazed, however. They believe there are 30 to 40 other markets that can support a top-level team, and that it's just a matter of putting the right pieces together at the right time in order to achieve success.
That combined with its own allure is why NASL is going ahead with its own expansion plans. Even if there is one more slot to fill because of MLS's decision to pluck Minnesota United.
"At the end of the day, it's about writing a check and that's really it," said Peterson. "That's what separates the different leagues right now in this country. I guess we'll see where it all shakes out at the end, but I think they're just going where they find people who are willing to give them the money, right?
"That's the only difference I can figure out. Minnesota is the prime example: A growing NASL market, NASL owners have kept that sport alive in that town, and they've found somebody to come into their league and they're in their league."