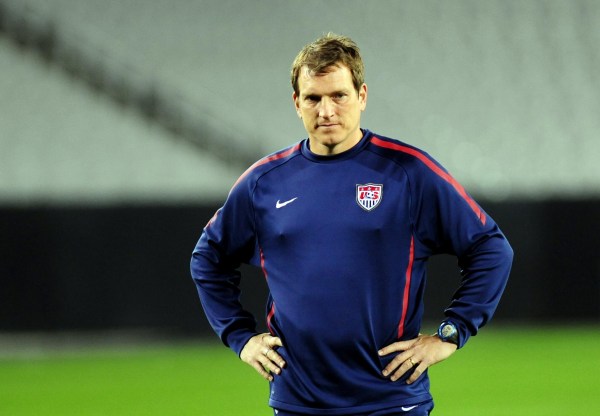 Photo by Jennifer Hilderbrand/USA Today Sports
By ADAM TROXTELL
With the U.S. Men's National Team pulling players from one side and the U.S. Under-20 team pulling from another, Andi Herzog's selection for the Under-23 team is a unique task.
Six months away from Olympic qualifying, Herzog is using a team camp in Tuzla, Bosnia & Herzegovina, to get his first look at potential players since he was appointed U-23 coach. But since the age group falls between the U-20 and senior squads, the selection process is somewhat challenging when all three hold concurrent camps.
"With all the games for Jurgen and the U-20 World Cup this summer, it's going to be a puzzle," Herzog said in an interview with U.S. Soccer. "On the positive side, we will get the chance to look at a variety of players. We've been working on getting quality games, and we have some fantastic opportunities coming up this spring and summer."
Luis Gil, Will Trapp, and Benji Joya are part of an eight-player contingent in Herzog's squad that competed previously for Tab Ramos' U-20 team. With senior team call-ups and previous training camps on the U-20 side, the players at Herzog's disposal are no strangers to the U.S. Soccer system.
"For this camp, there are two or three players who were already playing for the first team like Luis Gil and Wil Trapp," Herzog said. "Obviously there are players who played in the World Cup in Brazil that will have an important role. I think that we have a great group together and the main goal is to play the qualification at home in a really, really good way."
Before that, the U-23s must navigate games against the Bosnia & Herzegovina U-23s on March 27 and Denmark's U-21 team on March 31. Both teams are viewed by Herzog as tough opponents, and he hopes to tackle them the same way that Jurgen Klinsmann's USMNT and Ramos' U-20s have handled opponents in the past.
"In terms of style of play, it's the same approach that Jurgen has and what Tab Ramos has done with the U-20s," Herzog said. "We all work together with the senior team. We want to be attack-minded, keep possession, and have the whole team proactively working to win the ball back as soon as possible."
The work towards that begins now, Herzog said, and his views come with experience. Prior to joining Klinsmann's U.S. setup, Herzog coached the Austrian Under-21 National Team. He hopes to use that experience to get the U.S. U-23s to the Olympics.
"It's an advantage, because I already know the strengths and weaknesses of this age group," Herzog said. "I think we are all convinced that we will get to Brazil, and like I said, it starts already in Bosnia."