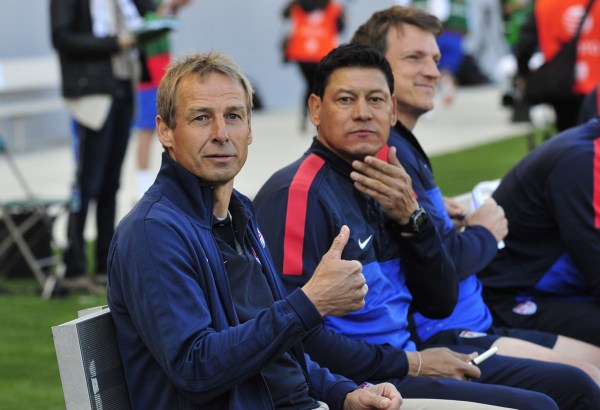 Photo by Gary A. Vasquez/ USA Today Sports
By RYAN TOLMICH
Two years before assuming the role of head coach of the U.S. Men's National Team, Jurgen Klinsmann occupied the same post at Germany's biggest club: Bayern Munich.
But after just 29 league games, Klinsmann was dismissed for what Bayern chairman Karl-Heinz Rummenigge called  "an important mistake".
Rummenigge told Goal USA that Klinsmann's tenure was cut short due to the appointment of assistant coach Martin Vasquez, whose unfamiliarity with the Bundesliga proved to be a major hindrance in the club's view.
"I believe it's not a surprise that he's successful," Rummenigge said to Goal USA, "because when he had been coaching here for one season I believe both parties, him and ourselves, made one mistake. It was looking like something little but in the end it was an important mistake.
"His second coach, the Mexican who was a nice guy and a very good coach, didn't know anything about the Bundesliga or about German football, and I believe at the end that was a mistake done by us and done by (Klinsmann). Maybe we had to choose a German who knew the Bundesliga who could have helped him, like maybe Joachim Low helped him during the 2006 World Cup. It was little, but in the end it was a very important mistake.
"I have to excuse him," Rummenigge added, "because I know he suffered about that and in the end got fired here. But it was not his mistake alone. We also made a mistake."
Upon his dismissal from Bayern, Vasquez, who managed Chivas USA for less than a season in the aftermath, remained Klinsmann's assistant right up until the buildup to the 2014 World Cup, when the German replaced him with Tab Ramos.
—
What do you think of Rummenigge's comments?
Share your thoughts below.