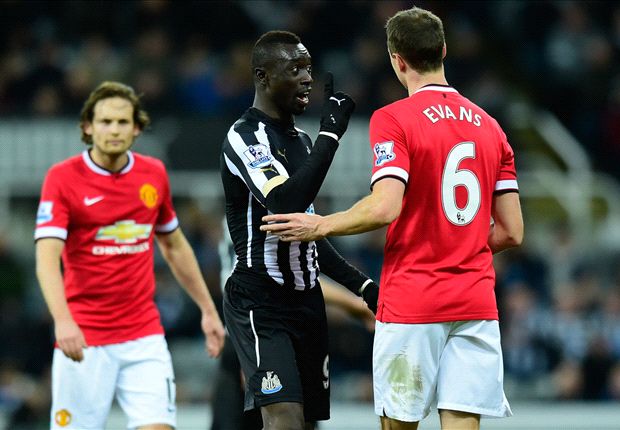 By ADAM TROXTELL
Both Newcastle's Papiss Cisse and Manchester United's Jonny Evans will be charged over a spitting incident.
The pair were caught on video apparently spitting at each other when they clashed during Man United's road game against Newcastle on Wednesday. The FA has announced that while the match officials did not see the incident, both will face disciplinary action.
The incident occurred in the 38th minute. Cisse fell to the ground while battling Evans for a loose ball during the match, and Evans appears to spit at the Senegalese striker as he rose.
Cisse attempts to grab Evans before he appears to spit back. The Newcastle man apologized for his actions on Thursday, but Evans has denied spitting during the incident.
Both players have until Monday night to respond to the charge. The minimum ban for spitting is six games, though Cisse could get a longer suspension since he was already banned for violent conduct earlier this season.
Here are some more news and notes for your Thursday afternoon:
ROBINHO RECALLED IN LATEST BRAZIL SQUAD
After back-to-back weekends on the score sheet for Santos, Robinho is getting a reward.
The 31-year-old striker has been recalled into the Brazil National Team squad to face France and Chile in a pair of friendlies. Robinho has scored four goals in the last two games for Santos, enough for Brazil head coach Dunga to bring the striker into his team.
After the 2010 World Cup, Robinho's runs in the Brazil team have been sporadic. A two-year hiatus from international play ended in 2013 when he was brought in to play Honduras and Chile by then coach Luiz Felipe Scolari.
The former Real Madrid, Manchester City and AC Milan striker was then left out of the 2014 World Cup squad. He was also overlooked by Dunga for a pair of November friendlies.
GERMANY TO EXTEND LOW CONTRACT THROUGH 2018
Joachim Low might get even more time at the helm of the German National Team.
According to German newspaper Bild, the German soccer authority, the DFB, is prepared to offer Low a contract through the 2018 World Cup. Currently, Low's contract will run out after the European Championship in France next summer.
The DFB offered no comment to Bild's report, but the newspaper has reported talks between authorities and Low's representatives are already in an advanced stage. Low has been the head coach for Germany since 2006, succeeding Jurgen Klinsmann.
Since Low took charge, the Germans have reached the semifinal stage of every major tournament. They, of course, went one better last summer when they won the World Cup in Brazil.
POYET CHARGED FOR SIDELINE BUST-UP
Sunderland manager Gus Poyet got a little hot under the collar in his team's game against Hull City on Tuesday, and now he's paying for it.
The FA charged the Uruguayan manager with improper conduct on Thursday following a heated exchange with Hull manager Steve Bruce. He has until Monday evening to respond to the charge and could face a ban from the sidelines.
Poyet and Bruce squared off after the Sunderland manager responded to what he believed was a missed penalty call by kicking over a container of water bottles. Video from the game shows Poyet apparently applauding sarcastically in Bruce's face before the Hull manager began marching toward him.
Bruce, who was contacted by the FA over the incident, later told reporters that Poyet said something that was "not very pleasant." The pair had to be separated by match officials, and Poyet was sent to the stands for kicking the water bottles.
—
What do you think of the incident between Cisse and Evans? What does Robinho have left to offer Brazil? What do you expect from Germany in Euro 2016?
Share your thoughts below.