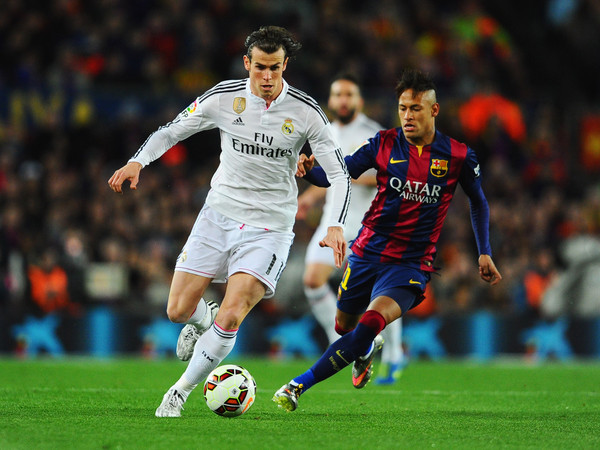 By RYAN TOLMICH
For some, El Clasico is much more than a game, and fans of Real Madrid vented their frustrations with Sunday's loss in a physical manner.
Following Sunday's 2-1 defeat at the hands of Barcelona, fans reportedly attacked the cars of Real Madrid's Gareth Bale and Jese Rodriguez as the two arrived at the club's training complex. The fans were then confronted by centerback Sergio Ramos, who reminded supporters that the team "left everything on the pitch".
With the loss Real Madrid sit four points behind league leaders Barca with 10 games remaining in La Liga's season.
Here are some more news and notes to kickoff your Monday morning:
COSTA TO MISS SPAIN QUALIFIER WITH HAMSTRING INJURY
Diego Costa contributed one of his team's three goals on Sunday, but that goal didn't come without a price.
Chelsea manager Jose Mourinho says the striker suffered  an injured hamstring in Chelsea's 3-2 defeat of Hull on Sunday, leaving Costa likely to miss Spain's Euro 2016 qualifier with Ukraine on Friday.
"A hamstring," said the Chelsea manager. "We don't know but when a striker is playing and the team needs a goal to win and with 15 minutes to go the striker comes out a guy with a lot of experience like he has with hamstring injuries and says it's over for me, it's over for him.
"He has this problem since he tried to play the Champions League final with Atletico and was injured again and again," said Mourinho. "He has this fragility. We know his hamstring is not strong. He works hard during the week to compensate this weakness. He has 15 days without football with Chelsea, but if he's injured he's injured. We never cry with injured players."
ROBBEN SET TO MISS 'SEVERAL WEEKS' WITH ABDOMINAL INJURY
With a two leg Champions League matchup with Porto coming up next month, Bayern Munich's Arjen Robben is set to face a race to recovery.
The Dutch winger is set to miss "several weeks" after suffering an abdominal injury in Bayern's 2-0 loss to Borussia Monchengladbach over the weekend. The injury, the result of a collision with Gladbach right back Tony Jantschke, came just 24 minutes into Robben's return from a back problem.
In 20 Bundesliga appearances, the Dutchman has contributed 17 goals, with two additional finishes coming in seven European outings.
QUICK KICKS
Liverpool's Adam Lallana will miss out on international duty with England due to a groin injury. (REPORT)
Hamburg appoint Peter Knabel as caretaker manager after firing Joe Zinnbauer. (REPORT)
Tim Cahill has withdrawn from Australia's upcoming friendlies against Germany and Macedonia. (REPORT)
Genoa face a potential FIFA sanction for failing to pay Trinidadian side W Connection for Zaine Pierre's transfer over three years ago. (REPORT)
—
What do you think of the actions of Madrid's fans? How will Spain fare without Costa? Who should replace Robeen for Bayern?
Share your thoughts below.