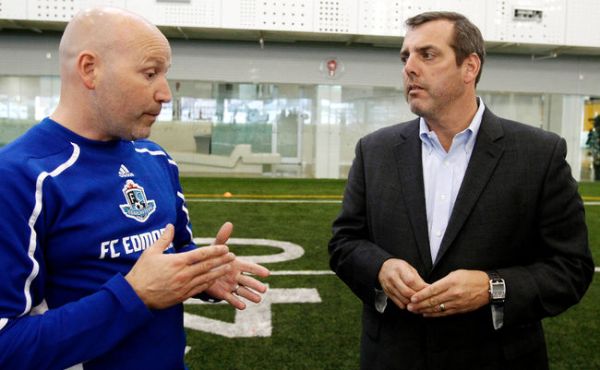 By RYAN TOLMICH
On the heels of the recent MLS CBA negotiations, free agency is a hot topic in the North American soccer landscape.
With the announcement of a limited form of free agency extended to MLS veteran players, the league has taken a step toward developing somewhat of a free market. However, that market has its disadvantages from a player standpoint, as free agency in the latest incarnation of MLS' CBA is limited strictly for veterans, while even those eligible have a cap on salary increases.
Free agency is nothing new in NASL, where players have the freedom to play for any team they want once out of contract, much as is the case in the rest of the soccer world. NASL Commissioner Bill Peterson remains a believer in that system, and while he is glad MLS is set to take the field on time, he believes the league's players are still at a major disadvantage.
"First of all, I'm glad that they reached an agreement," Peterson told SBI on Thursday. "I think that that it's important that both sides have agreed that these are terms that they accept. I don't think what's being called 'free agency' is very advantageous for the players. You look at our league where guys sign one or two-year deals and then are able to go back out and test the market with any team in the world. That's free agency, in my opinion, but they agreed to it. That's their business and we wish them well.
"It won't effect anything we're doing. I think you find that more and more of the agents and more and more of the players start to realize what free agency really looks like when they come into the NASL and that's one of our advantages, one of our unique selling points, that a player can come in and prove himself at a very high level and, in a short period of time, go back out there onto the market."
Despite some potential impacts the CBA may have on the NASL, Peterson remains upbeat. Although there has been a raise in MLS' minimum salary, Peterson insists that the NASL's teams still have the resources to compete and offer plenty to any players looking to ply their trade within the league.
"It wasn't raised enough to affect the fundamentals of the game here. The cost of living has increased," Peterson said. "I've seen that some people were concerned because we don't have a minimum salary, but we have something even better, and it's called total free agency. If a club makes an offer to a player and he doesn't like it, he's free to go somewhere else and get another offer. That's the real advantage here.
"We're comparing apples and oranges here. They have a system that they like with the CBA. We have a system that we love, and that's a free market system."
—
What do you think of Peterson's comments? How do you see the recent MLS CBA affecting the NASL?
Share your thoughts below.