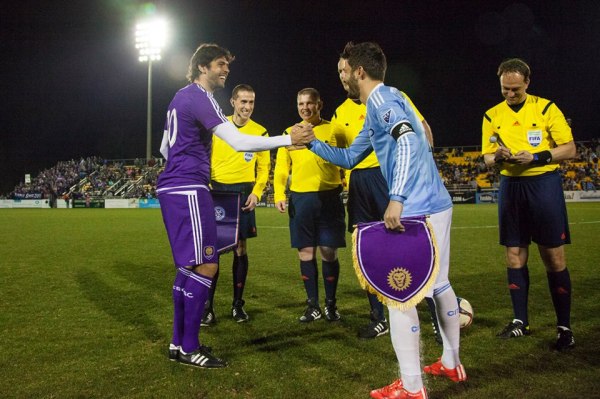 By FRANCO PANIZO
ORLANDO, Fla. — Nearly 1,100 miles separate New York City from Orlando, and the short histories of the cities' two new MLS clubs are not all that similar.
New York City FC was created out of the blue. Orlando City was established through years in USL Pro. New York City FC was allowed instantly into the league. Orlando City had to patiently wait while crossing off a number of things from a to-do list.
Yet as much as both teams differ, the two will be intertwined with one another during the course of the 2015 season and possibly longer. Such is the life of expansion clubs arriving at the same time.
After being awarded MLS franchises in 2013, Orlando City and New York City FC will kickstart their journeys in the league when they lock horns at the Citrus Bowl on Sunday. That the two are opening their MLS tenures by going up against one another is fitting in a lot of ways, as their statuses as expansion teams will see them compete directly and indirectly throughout the course of the year.
It might not be ideal, but it comes with the territory.
"Unfortunately for me, I was involved at Real Salt Lake back when Chivas (USA) came in at the same time. It was the same thing," said NYCFC head coach Jason Kreis. "We were basically measuring ourselves against each other the entire season, so every time we stepped on the match you could feel there was a little bit extra there. I'm sure it'll be the same thing come Sunday and will continue that way through the season.
"Like it or not, we're the only ones that we can kind of say, 'Oh, they're in the exact same situation as we are and how are we doing.'"
It will not just be their weekly performances and results that will be compared, either. Everything and anything from weekly awards to moves off the field will be compared and talked about by observers and a pair of fanbases that have already grown a competitive, almost brotherly, dislike for one another.
That bad blood from the supporters has already started to trickle over to the field. NYCFC and Orlando battled in preseason match a couple weeks ago, and there was a level of testiness that took some by surprise.
"I don't know why, but the game the other week in Charleston was a little bit lively," said Orlando City manager Adrian Heath. "I think there's just a natural rivalry that started."
Whether it fits your definition of a rivalry or not, there is no denying that the two Eastern Conference clubs will be going head-to-head in a comparative battle for superiority that will not exist with most other teams. Even the last few days have given Orlando and New York City a taste of what they can expect, with even the most trivial things being compared and discussed.
One such thing that will be measured, especially this week, is the performance of the club's star Designated Players. While Orlando City had to broach the subject of stopping Spanish striker David Villa on a number of occasions in recent days, NYCFC faced several questions about having to defend Brazilian superstar Kaka.
"(Kaka's) a great player and obviously the one takeaway we had from the preseason game is a lot of stuff flows through him," NYCFC midfielder Ned Grabavoy told SBI. "He's a bigger guy, he's got that bigger body and long stride where he can kind of just glide past guys a little bit, and so certainly a very important player – there's no denying that – in their attack.
"We'll have to be wary of that, we'll have to pay importance to all the key factors, but he's a guy that's going to make plays at moments in games. It's just how can we limit that."
The responses to negating Villa were very simlar.
"With guys that are able to play that free role you've got to have your head on a swivel and always just be aware of where he is because he can punish you from anywhere," Orlando City midfielder Amobi Okugo told SBI. "It's not just with the goal, it's with the pass or bringing players away from another player. David Villa has those qualities, so we're going to focus on him but we're not going to put all our focus on him because they've got a lot of great players."
The two sides' competition has been in the making for nearly two years, and on Sunday it will kick into high gear. Let the games begin.