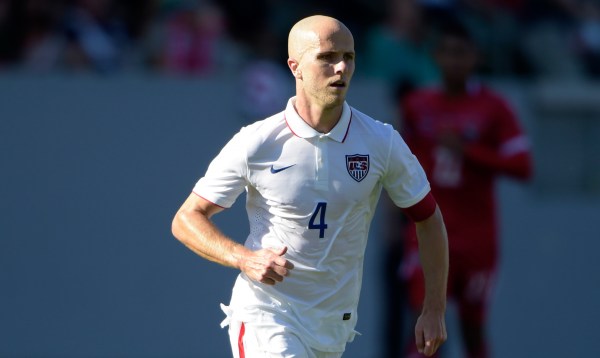 Photo by Kirby Lee/USA Today Sports
By FRANCO PANIZO
It seemed like the time for experimenting had ended last month for the U.S. Men's National Team and that preparations for this summer were bound to ramp up.
Not quite.
Though the opponents and environments this month should provide stiff tests for a U.S. side still in the process of coming together ahead of its CONCACAF Gold Cup title defense, Jurgen Klinsmann is going with a squad devoid of several regular contributors. Mix Diskerud, Omar Gonzalez and Matt Besler were just some of the players left off Klinsmann's roster for a pair of European friendlies, and summoned instead were players like uncapped William Yarbrough and Ventura Alvarado and the out-of-form duo of DeAndre Yedlin and Julian Green.
Klinsmann did bring in several of his top players, including Toronto FC's Jozy Altidore and Michael Bradley, and they will be counted on to help tackle Denmark in Aarhus on Wednesday in the first of the Americans' two March exhibitions. While Klinsmann is keen on them getting a result at NRGi Park, he will also be looking for his team to continue to develop chemistry after seeing it struggle to consistently perform in recent matches.
Doing all that will not be easy for the Americans. With Denmark boasting a squad that includes Wolfsburg striker Nicklas Bendtner and midfielder Christian Eriksen of Tottenham, the U.S. will have its hands full. Throw in the fact that Clint Dempsey is now unavailable because of a hamstring injury sustained on Monday and things get a bit tricky for Klinsmann and his side.
The loss of Dempsey means the U.S. no longer has the only proven creative player on the current squad. There is no like-for-like replacement to keep Danish defenders such as AZ Alkmaar's Simon Poulsen on their toes, which means Klinsmann will have to think outside the box to find a way to make up for the absence of his savvy and skillful captain.
One possibility for Klinsmann is Aron Johannsson, who previously called NRGi Park home during a stint with Danish club AGF Aarhus. Johannsson is back in the mix with his U.S. teammates for the first time since last summer's World Cup, finally recovered from the nagging and untimely injuries that have plagued him for much of the past year, and he should be plenty hungry to state his case as a result.
The 24-year-old forward enter this match having been seeing the field for AZ Alkmaar as of late. He's also scored a few goals in recent club outings, so his form could warrant inclusion next to former club teammate Altidore. How the two fare alongside one another has long been on the wish list of many U.S. fans, and they could get their wish if Klinsmann goes with a two-striker set-up.
If that's the case, the midfield will change substantially from how it has looked in recent games. No Diskerud means that Bradley will likely serve higher up the field, and who pairs with the Toronto FC ace in the middle will both be trying to learn how to play with him and impress Klinsmann at the same time.
Indeed, this is an opportunity for fringe players to really show Klinsmann up close and personal that they are ready to contribute when the Gold Cup kicks off in July. Danny Williams and Alfredo Morales, the two leading candidates to play alongside Bradley, both fall under that umbrella. Williams has not suited up for the U.S. since last March, and Morales is trying to make the jump from prospect to regular. It seems likely that both will see some minutes, but making the most of their time on the field will be key.
The same goes for whoever starts in the center of the defense. A crowded but seemingly open position, centerback is one of the more interesting spots to keep an eye on given the omissions of regulars Jermaine Jones, Geoff Cameron, Besler, and Gonzalez.
John Brooks figures to be in one of the two spots – assuming Klinsmann does not revert to the 3-5-2 look he used to start the year – and one of Tim Ream, Michael Orozco, and first-timer Alvarado will be next to the Hertha Berlin defender. It's a chance for whoever plays to really prove their worth, to demonstrate to Klinsmann that they have what it takes to push one of the regulars out of the picture.
Alvarado has the toughest hill to climb in this competition, as he is new to the international game. In fact, it's unclear if Klinsmann will even cap the newcomer given his lack of familiarity with his new teammates and the speed of play at this level.
Still, Klinsmann has made no secret he wants to introduce new and young players into the fold to challenge the status quo and make for a better U.S. Men's National Team. That's why Miguel Ibarra has been recalled despite still being in preseason with NASL's Minnesota United, and why Green and Yedlin have been included in this round of games despite a lack of playing time at the club level in recent months.
For Klinsmann, these next few months are as much about continuing to identify talent as they are about preparing as a group for the looming Gold Cup. Wednesday's game against Denmark simply serves as another method to do both simultaneously.