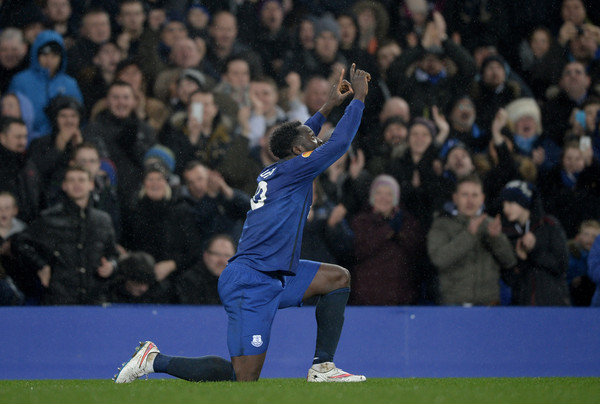 By RYAN TOLMICH
Everton escaped the friendly confines of Goodison Park with a victory despite conceding an early goal to Dynamo Kiev.
Led by an 82nd minute Romelu Lukaku penalty kick, Everton topped the Ukrainian side, 2-1, in the first leg of their Europa League Round of 16 clash.
Dynamo Kiev opened the scoring in the 14th minute through Oleg Gusev, but the Toffees restored the deadlock 25 minutes later on a finish from Steven Naismith. Lukaku sealed the victory for his side late, as Dynamo Kiev's Danilo Silva was called for a handball while sliding to block a shot.
Take a closer look at the results of Thursday's Europa League action below:
DE BRUYNE SCORES BRACE TO LEAD WOLFSBURG
Wolfsburg entered Thursday's clash with Inter Milan on the heels of a league loss, but Kevin de Bruyne ensured that the result would not be repeated.
Wolfsburg toppled Inter, 3-1, Thursday at Volkswagon Arena as the Belgian midfielder provided a pair of second half finishes.
The Italian side opened the scoring just six minutes in through Wilson Palacio, but the German's proved to be the dominant force from that point forward. Centerback Naldo leveled the scoreline in the 28th minute, paving the way for de Bruyne to put the game out of reach with his finishes in the 63rd and 75th minutes.
VITOLO SCORES FASTEST GOAL IN EUROPA LEAGUE HISTORY
It didn't take very long for Vitolo to make his mark on Thursday's Europa League action.
The midfielder scored the fastest goal in Europa League history Thursday as Sevilla toppled Spanish rivals Villarreal, 3-1, at El Madrigal.
It took just under 13.5 seconds for Vitolo to get his name on the scoresheet, as the midfielder latched onto a pass from Kevin Gameiro to best the previous record of 15.19 seconds.
From there, Sevilla received finishes from Gameiro and Stéphane M'bia, while in-form forward Luciano Vietto scored a consolation goal for Villarreal.
Here's a roundup of the rest of Thursday's Europa League action:
Zenit 2 – 0 Torino
Club Brugge 2 -1 Besiktas
Dnipro 1 – 0 Ajax
Fiorentina 1 – 1 Roma
Napoli 3 – 1 Dynamo Moscow
—-
What do you think of Thursday's results? Any surprises? Who do you see advancing into the quarterfinals?
Share your thoughts below.