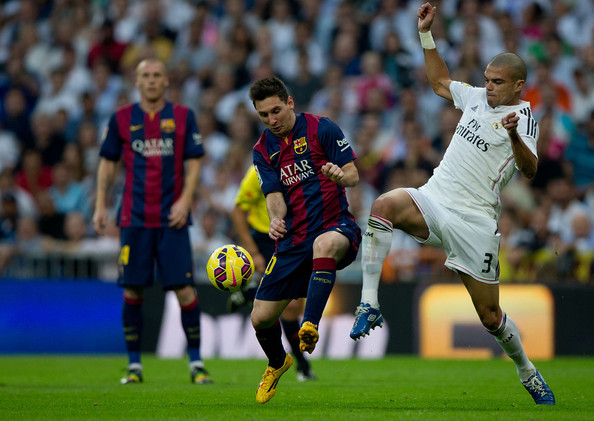 By AYDIN REYHAN
Domestic action is set to resume this weekend with some big games on display after a busy few days of European competition.
The biggest derby in the world, the El Clasico, returns to the Camp Nou with Barcelona hosting Real Madrid, looking to protect or build on their one-point lead atop La Liga while also hoping to avenge their 3-1 loss in the reverse from the Santiago Bernabeu in October.
Liverpool hosts Manchester United in a battle for fourth place in the Premier League while pride will also be on the line in a game that is always heated between the two sides.
Schalke hosts Bayer Leverkusen as they look to increase their three-point lead against the fifth-placed side as they are in fourth. This is a battle for a higher spot in the standings as well as a battle in pride as both look to move on after their Round of 16 elimination in the UCL, both against sides from Madrid.
Here is an overall look at the domestic action in Europe coming up this weekend:
SPAIN
The biggest game of all will be none other than the El Clasico between Barcelona and Real Madrid, inside the former's home stadium, Camp Nou.
Real Madrid has been playing poorly despite a 2-0 victory over Levante last weekend. If they play in that fashion at Barcelona, they may not be so lucky to grab all three points.
Lionel Messi and company are fresh off of a 1-0 victory over Man City, thus advancing into the quarterfinals after a 3-1 aggregate Round of 16 win in the UCL. They will look to build on that success by opening up a four-point lead ahead of Real Madrid on top of La Liga.
A smaller Madrid derby will take place between Atletico Madrid and Getafe at the Calderon. Atleti defeated Bayer Leverkusen on penalties to advance into the quarters of the UCL. They will be riding that high as they look to climb back into the top-three ahead of Valencia.
In a rematch of Thursday's matchup, Villarreal will be hosting Sevilla. The latter just eliminated the former from the Europa League in the Round of 16 after winning 5-2 on aggregate. Now, the former has a chance for revenge when they can tie the reigning Europa champions on 52 points in fourth with a victory.
Here are all of the matches to be played in La Liga this weekend:
Elche vs. Valencia
Atletico Madrid vs. Getafe
Rayo vs. Malaga
Levante vs. Celta Vigo
Athletic Bilbao vs. Almeria
Granada vs. Eibar
Deportivo vs. Espanyol
Villarreal vs. Sevilla
Real Sociedad vs. Cordoba
Barcelona vs. Real Madrid
ENGLAND
The biggest game on English soil is set to see Liverpool take on Manchester United as fourth place is up for grabs at Anfield. Meanwhile, title challengers Manchester City looks to bounce back from the Round of 16 UCL elimination against Barcelona when they host West Bromwich Albion, knowing that a win can cut Chelsea's lead atop the Premier League down to six, even though the Londoners have a game in hand.
Chelsea themselves visit Hull City. Still reeling after being eliminated from Europe, Chelsea will look to grab all three points to make sure they maintain at least a six-point lead ahead of Manchester City.
Here is everything happening in the EPL:
Manchester City vs. West Brom
Aston Villa vs. Swansea
Newcastle vs. Arsenal
Southampton vs. Burnley
Stoke vs. Crystal Palace
Tottenham vs. Leicester
West Ham vs. Sunderland
Liverpool vs. Man United
Hull vs. Chelsea
QPR vs. Everton
GERMANY
Schalke hosts Bayer Leverkusen in a battle for fourth with the visitors looking to protect a three-point lead in that position. Both teams have been eliminated by Spanish teams in the Round of 16 of the UCL so this game is even more important now as both sides focus on league play.
Bayern Munich hosts Moenchengladbach who sits in fourth, a whopping 20 points behind their hosts who are the league leaders with 64.
Wolfsburg visits 11th-placed Mainz as the team looks to celebrate qualifying for the quarters of the Europa League and to cut Bayern's 11-point lead down to eight again. Kevin De Bruyne is a man in form for them as he has nine goals and 16 assists in 25 Bundesliga games this season. Striker Bas Dost will look to get back into his scoring form as he has been quiet for a couple of the past ones. He has 13 goals and two assists in 14 games.
Here is everything happening in the Bundesliga:
Hamburg vs. Hertha Berlin
Koln vs. Werder Bremen
Freiburg vs. Augsburg
Hanover 96 vs. Dortmund
Paderborn vs. Hoffenheim
Stuttgart vs. Eintracht Frankfurt
Schalke vs. Bayer Leverkusen
Mainz vs. Wolfsburg
Bayern Munich vs. Borussia Moenchengladbach
ITALY
Juventus could extend its 14-point lead to 17 with a victory over Genoa at home if Roma drops all three points at Cesena, a team that shared the spoils with Juve 2-2 at home earlier this season.
Napoli looks to catch Lazio in third when they welcome Atalanta who are four points above the relegation zone.
Hellas Verona visits Lazio a week after blanking Roma 2-0 at home thanks to a brace from 37-year-old veteran striker Luca Toni. Their hosts are in form, but anything could happen on any given day in the Serie A.
Here are the fixtures in the Serie A:
Chievo vs. Palermo
AC Milan vs. Cagliari
Empoli vs. Sassuolo
Juventus vs. Genoa
Cesena vs. Roma
Lazio vs. Hellas Verona
Parma vs. Torino
Napoli vs. Atalanta
Sampdoria vs. Inter
Udinese vs. Fiorentina
FRANCE
After a disappointing 2-1 loss at Bordeaux last weekend, PSG will look to defeat Lorient at home to kick off Ligue 1 on Friday. Zlatan Ibrahimovic is expected to start a week after belittling the referee in a derogatory manner after the game in front of reporters. PSG still only sits two points shy of Lyon in second place.
Lyon could extend or protect their lead atop the standings when the host Nice who look to get eve further away from the relegation zone; they currently sit five points clear.
Toulouse expect to break out of the bottom three when they host high-flying Bordeaux. Evian are three points ahead and look to stay that way against Montpellier on home ground.
Rennes could overlap Nantes into ninth as they are only behind by one point with 38 in the standings.
Here are the Ligue 1 fixtures:
PSG vs. Lorient
Lyon vs. Nice
Bastia vs. Guingamp
Caen vs. Metz
Evian vs. Montpellier
Rennes vs. Nantes
Toulouse vs. Bordeaux
Saint Etienne vs. Lille
Reims vs. Monaco
Lens vs. Marseille