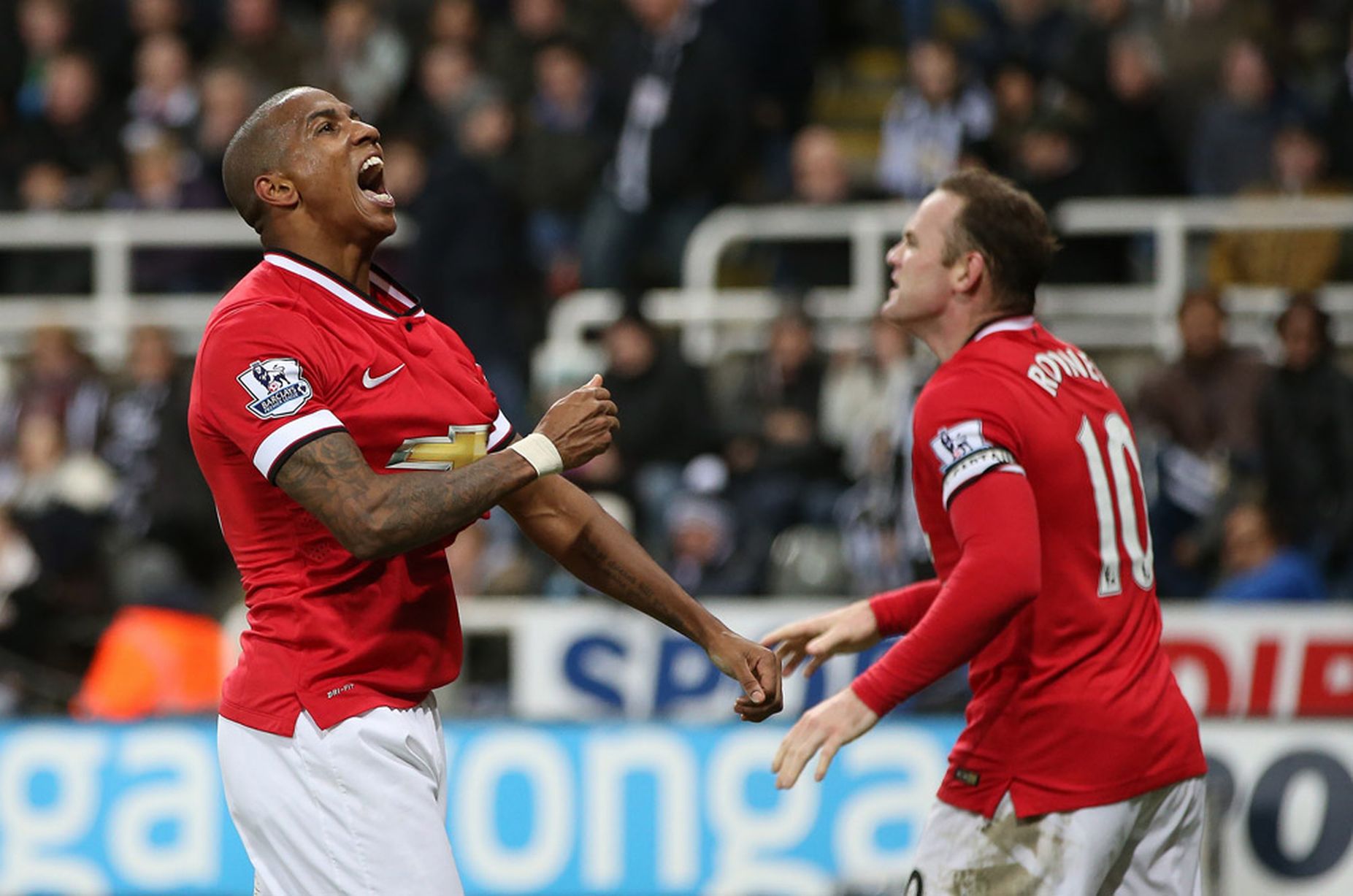 By ADAM TROXTELL
While it may not be scintillating soccer on display, Manchester United is still finding ways to win.
After 89 minutes of a possession game that produced few good chances, Ashley Young popped up to capitalize on a Newcastle moment of madness and give Man United a 1-0 win. It keeps the Red Devils standing alone in fourth place, two points ahead of Liverpool and one point behind Arsenal in third.
With 69 percent of the possession, Man Untied was always going to produce something. Tim Krul denied the Red Devils a lead just before halftime when he made a point-blank save from Marouane Fellaini's header.
By then, Newcastle may have deserved the lead. Emmanuel Riviere ran onto a ball inside the Man United penalty area, where he appeared to be fouled by Chris Smalling. The referee refused to give a foul, though replays show he easily could have.
Though Wayne Rooney's sliced effort from 12 yards can be put down to poor finishing, it was Krul who proved to be the Red Devils' biggest issue this time. The Dutchman pulled off a double-save just inside the second half to deny Fellaini again, as well as Young.
Persistence paid off with a minute to go, when Rooney forced a back-pass to Krul under heavy pressure. The goalkeeper's clearance fell straight to Young, who took a touch before firing into an empty net.
The game also marked a return for Jonas Gutierrez for Newcastle, who made his first appearance in 17 months while he underwent cancer treatment.
Here are more news and notes for your Wednesday evening:
GOMIS COLLAPSES DURING SWANSEA LOSS
A thrilling 3-2 win by Tottenham against Swansea was overshadowed by French striker Batefembi Gomis collapsing early in the first half.
Shortly after Nacer Chadli opened the scoring for Tottenham, Gomis fainted on the field and required oxygen. He appeared to regain consciousness as he was being stretchered off.
Perhaps shaken, Swansea responded through Ki Sung-yueng's 19th minute equalizer. Ryan Mason and Andros Townsend gave Tottenham the lead after halftime, and Spurs held on despite a late Gylfi Sigurdsson strike that made for a dramatic last few minutes.
Elsewhere, Eden Hazard's strike saw Chelsea to a win against London rivals West Ham. There were also victories for Liverpool, Manchester City and Arsenal.
Here is a full look at Wednesday's results from the English Premier League:
Manchester City 2, Leicester 0
Newcastle 0, Manchester United 1
QPR 1, Arsenal 2
Stoke 2, Everton 0
Tottenham 3, Swansea 2
West Ham 0, Chelsea 1
Liverpool 2, Burnley 0
PSG TOPS MONACO IN COUPE DE FRANCE
After finishing scoreless against Monaco over the weekend, it appears Paris Saint-Germain was saving the goals for a special occasion.
PSG beat the team from the principality 2-0 in the Coupe de France on Wednesday, booking a place in the semifinals. The teams had played out six straight draws during their encounters.
An early lead for the Parisians looked to change that immediately. David Luiz pounced on a poor Monaco clearance from a corner kick to tap the ball home in the third minute.
Monaco's best chance for an equalizer came when Armand Traore struck the post in the first half. Shortly after halftime, PSG doubled its lead through Edinson Cavani's placed shot.
BARCELONA BEATS VILLARREAL TO REACH COPA DEL REY FINAL
A similar script was played out during Barcelona's second leg victory against Villarreal in a semifinal of the Copa del Rey
The Catalan side once again triumphed 3-1 to take a 6-2 aggregate win. This will be Barcelona's fourth Copa del Rey final appearance in six years.
Neymar put the club on that path in just the third minute when he found a Lionel Messi cross behind the Villarreal defense and applied the first time finish. This canceled out a bright start by Villarreal, though the Yellow Submarine made things interesting later.
Jonathan dos Santos equalized in the 39th minute when he arrived at the back post untouched to put in Jaume Costa's cross. The comeback effort was hindered, however, when Tomas Pina lunged in two-footed on Neymar and was shown a red card.
Barcelona cruised from there. Luis Suarez gave them the lead with about 15 minutes to go before Neymar scored his second in the 88th minute.
There was a negative side to Barcelona's victory when Sergio Busquets was stretchered off just after the Villarreal goal. It appeared to be an ankle injury for the Spaniard, and Jeremy Mathieu had to replace him.
BLATTER: RELEGATE TEAMS OVER RACISM
FIFA President Sepp Blatter has offered a stern punishment for teams with fans who commit racism: relegation.
While speaking at the CONMEBOL conference in Paraguay on Wednesday, Blatter said only tough action will finally stamp racism out of the game completely.
"I think that one day racism will disappear from football…but that's not enough," Blatter told a crowd of South American soccer presidents. "We need new conditions. We must deduct points or relegate a team. The moment we have the courage to do that, discrimination will end."
Blatter's remarks come in the wake of Luis Tajeda's actions in Peru. The striker walked out of Juan Aurich's first division game last week after he was racially abused by fans. Tajeda was booked and his team had to play the rest of the game with 10 men.
—
What do you think of Wednesday's results? How would you punish clubs for racist actions?
Share your thoughts below.