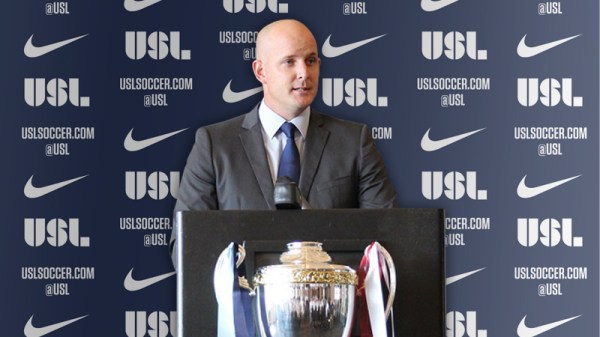 photo courtesy of USL
By FRANCO PANIZO
A new name also comes with a new president.
USL announced on Monday a number of changes on the executive side, with the most notable one being Jake Edwards replacing Tim Holt as league president. Edwards takes over after Holt's decision to resign, and he most recently served as USL's executive vice president in 2014.
"Jake Edwards is a dynamic, young executive with exceptional vision and extraordinary drive to achieve outstanding results," USL CEO Alec Papadakis told USLSoccer.com. "He is a proven leader with a broad understanding of U.S. soccer, both on the collegiate and professional levels. Armed with a professional soccer career, MBA, corporate experience with Octagon (a leading global sports marketing firm), and a deep understanding of the USL business, we are confident that Jake will successfully lead the USL into the next phase of operations and growth.
"He has been instrumental in developing Destination 2020, the league's long-term strategic growth plan, and navigating the league through its rebranding. We are fortunate to have such an outstanding sports executive as Jake to complete a seamless President leadership transition."
Holt, meanwhile, has left the post to pursue other career opportunities. He enjoyed a 16-year career with the league that recently rebranded from USL Pro to USL.
"Most recently, he has been one of the key architects in the USL's six-year-long transformation into the strong and stable organization that it is today," said Papadakis. "Tim's unquestionable integrity and strong ethical standards are qualities admired not only by those in our organization, but throughout the soccer industry. His dedication and loyalty to the USL and his contribution to American soccer deserve not only our admiration, but national recognition as well.
"On behalf of Rob Hoskins, the entire USL family, and myself, we want to thank Tim for his service and wish him much success in his new professional endeavors. He will, however, always remain a part of the USL family."
Other changes USL announced were to the executive vice president and president of commercial venture roles.
—–
What do you think of Edwards being named USL president? Surprised to see Holt resign? How will you look back on Holt's time with the league?
Share your thoughts below.