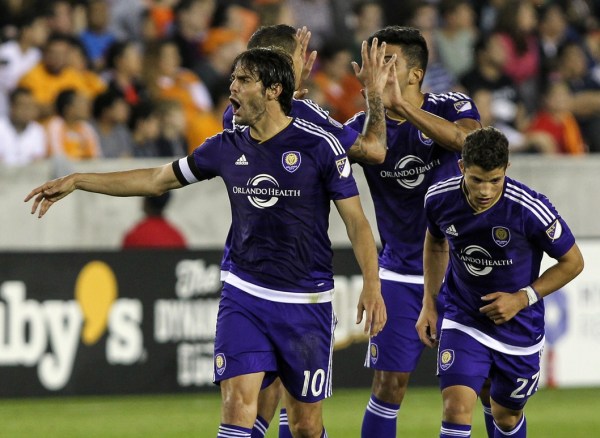 Photo by Troy Taormina/USA Today Sports
By LEOPOLDO PONCE
HOUSTON– Orlando City SC did not have to wait long to earn their first victory in Major League Soccer, but head coach Adrian Heath was still relieved to get it out of the way.
"Tonight is obviously a big relief for everybody," Heath said. "All you guys can stop saying that Orlando haven't a win yet in the MLS. We put that to bed."
Despite the winning result, Heath acknowledged the expansion side still has much improving to do.
"(Orlando City SC) is still a work in progress and we have so much to do," Heath said. "We're nowhere near the finished article, nowhere near where I want."
Orlando City's victory came courtesy of what was officially ruled a Tyler Deric own goal, but Heath gave all the credit to Pedro Ribeiro by quickly stating that often, "(players) give up chasing the keeper because nine times out of 10 nothing comes of it, so the fact that he put the work in was his reward for it."
"It doesn't matter," Ribeiro said, "the ball went in, it's a goal, and it doesn't matter if it was me or the (keeper).
"Happy for the goal, but happier for the first win."
Ribeiro's game-winning play came after he failed to make the bench for the team's season opener last week. Heath said that Ribeiro forced himself into the 18 this week by working hard in training.
Also helping Ribeiro crack the game day roster was the absence of Honduran international Bryan Rochez and Colombian midfielder Cristian Higuita.
"He's lacking a bit of fitness, and we didn't want (him) to travel three days and not get on the field," Heath said of Rochez. "He's been working really, really hard at home."
Higuaita's missed the match with a slight strain, with Heath saying there was no point in risking further injury.
The win may have come off a mistake from the Dynamo's goalkeeper, but Heath felt as if his team played well enough to deserve all three points.
"Some of our play at times was excellent," Heath said. "I didn't think the goal would come. It was the right reward for the amount of work we put in.
"I'm a big believer that, in football, you get what you put in, and we reaped the rewards today."