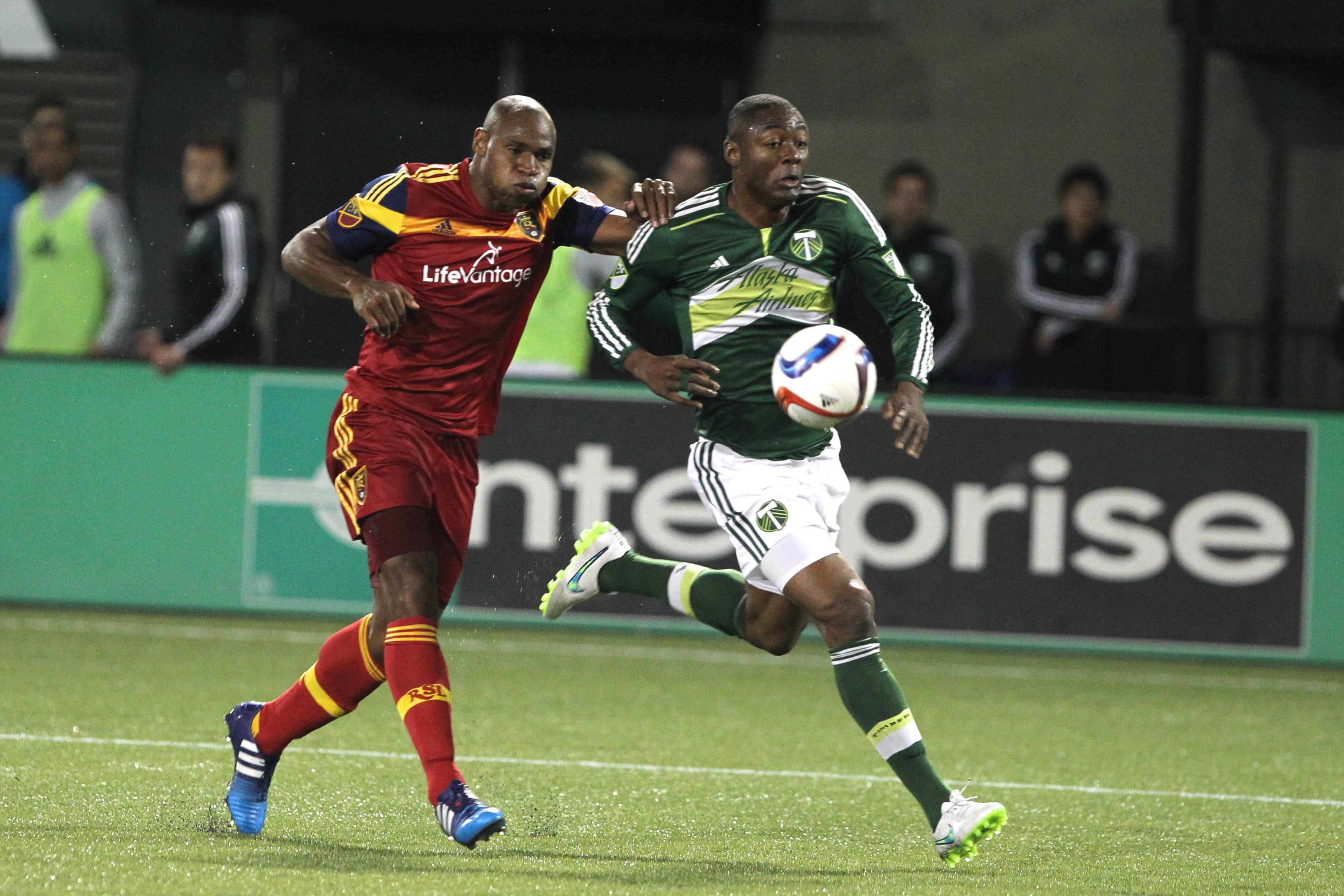 Photo by Jaime Valdez/USA Today Sports
By ADAM TROXTELL
The Portland Timbers tried every way possible to score against Real Salt Lake in the late Saturday game, but the end product somehow eluded them.
Despite numerous opportunities, the Timbers settled for a 0-0 draw in their home opener. RSL was organized enough to control possession for most of the game, but the defending was frantic at times as they narrowly avoided conceding.
It was appropriate, then, that the game ended with a pair of Timbers shots being blocked in a hectic penalty area scramble. Jamison Olave and Tony Beltran stepped in to preserve the shutout on the road for RSL in the face of back-to-back shots from a frustrated Timbers attack.
But it was Nick Rimando who deserved most of the credit for holding off the Timbers. His six saves included four chances for the Timbers' Rodney Wallace alone, the best of which came from point-blank range in the 53rd minute off of a corner kick.
Things weren't so solid for RSL at the other end, with just two shots on target that were easily handled by Larsen Kwarasey and the Timbers defense. Currenty Timbers defender Nat Borchers copied the efforts of his former RSL teammates, but he was only able to watch as chance after chance came and went for the hosts.
Maybe it was familiarity that helped Borchers keep the RSL attack quiet. Alvaro Saborio hardly made a peep the entire evening for the visitors in a new-look 4-3-3 formation. On top of the departure from the diamond midfield, RSL also had to contend with the aggressive play.
There were a combined 41 fouls in the match, and five yellow cards were handed out. The aggression hindered both attacks, but the Timbers found enough room to cause issues for Rimando.
Darlington Nagbe sparked the Timbers' charge forward in the first half, linking play in the final third that produced a few opportunities. His initial run at the RSL back line eventually saw the ball fall to Wallace, whose looping shot was saved by Rimando.
It was only the first time Wallace was denied. Later in the first half, a Jack Jewsbury free kick to the near post was deflected toward goal by Wallace. Once again, Rimando pounced.
He did this twice more in the second half as the game looked increasingly more like it would end scoreless.
RSL will now attempt to put together a solid attack in front of a home crowd when Philadelphia Union visits next Saturday. The Timbers may not be able to afford letting goal chances come and go in their next match when the LA Galaxy visit the Rose City next Sunday.
Here are the match highlights: