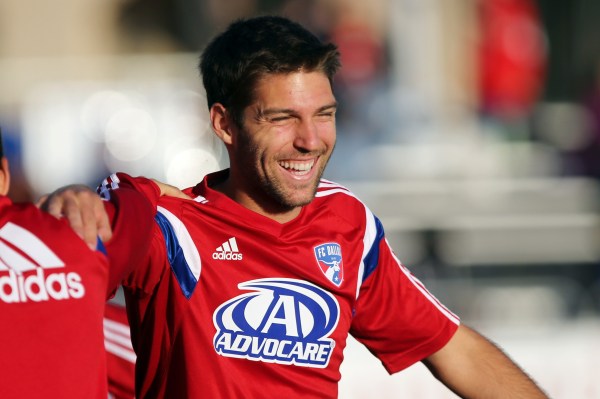 Photo by Kelley L Cox/USA Today Sports
By ADAM TROXTELL
After he was drafted by FC Dallas in 2013, Ryan Hollingshead first had to deal with some unfinished business that could easily have halted his career.
He had to ask FCD for a year off to return to California, where he was due to help his brother, Scott, complete their dream of building a church from the ground up. It's a process that, much like the path of a young soccer player, holds no promise of instant success.
"I think I went into that with an open mindset, not planning everything out," Hollingshead said about his decision to delay his professional career. "I didn't go in thinking this was for life, but I also didn't think 'let's get this going and get back to Dallas.' I was willing to be there."
If it had taken longer than eight months to get Harvest Bible Chapel in Sacramento up and running, Hollingshead said, there's a good chance he would not be in preseason now, adapting to a new role that has so far paid dividends. Upon switching to the right wing from midfield, the UCLA-product scored three goals in three preseason games, two against Columbus Crew and one against D.C. United.
He's now competing for a starting spot and has caught the eye of head coach Oscar Pareja.
"Ryan's shown already that he wants to go one step further and compete for that spot, and that's what I want to see from the youngsters," Pareja said. "That's going to make each of them better."
So Pareja and FCD can be thankful that the church Hollingshead and his brother built was done within a year. It was a dream of theirs ever since they became Christians, Hollingshead said, so there was no question over what he needed to do when he was drafted in 2013.
Hollingshead said he was in Haiti when he was selected by FCD, and several unexpected phone messages and e-mails were waiting for him back home.
"I was not expecting to get drafted," he said. "I told coaches that I was in talks with that I probably wasn't going to play for that first year. FC Dallas wasn't one of those teams."
So the year out of soccer began, and work on the church went much quicker than expected. In October, Harvest Bible was well on its way to success, and the brothers agreed it was time for Hollingshead to begin life at FCD.
But it wasn't so easy. A year away from the game took a toll on Hollingshead's fitness, and there was much work to do.
"It was difficult on my body and game awareness," he said. "Being around the game and getting used to the speed of the game was difficult in the first year."
Hollingshead worked his way to 11 appearances, four of them starts, last season when FCD made the playoffs for the first time in two years. The team did this with a handful of young stars, such as Rookie of the Year Tesho Akindele, winger Fabian Castillo, midfielder Victor Ulloa and defender Matt Hedges, leading the way.
For the preseason at least, 23-year-old Hollingshead has now thrown his name into that same mix. He said that having such a strong group of determined players fighting for every position has fostered his development.
"My game has kind of changed, especially from what it was back in college," Hollingshead said. "I've grown from just playing against these guys every day. They demand a different level."
Another thing that drives him and the other young FCD players forward is fulfilled promises that hard work will result in playing time.
"You know there's a reward waiting for you," Hollinghead said. "There's a culture here where if you're playing well and you're outplaying someone, you'll get to start. I feel like I've been rewarded for my hard work."
Now with a year of playing under his belt and a solid preseason, Hollingshead said he's ready to contribute to the team's goal of winning the MLS Cup. It's like a new lease on life compared to two years ago when his future was, quite literally, in God's hands.
"I think God was just good to us and good to me in the process," Hollingshead said. "We're excited for a lot more and we've got a lot of the same pieces. We've got a chip on our shoulder and we want to show that last year wasn't a fluke. Anything less [than the MLS Cup] wouldn't be good enough."