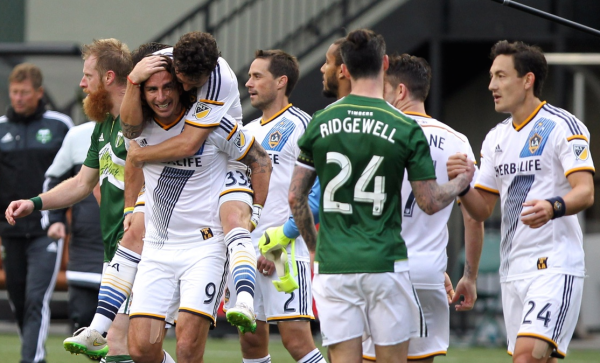 By AARON CRANFORD
The Portland Timbers thought they had won it, but like last year's wild ending in Providence Park, the Los Angeles Galaxy would not be denied a share of the points in a thrilling 2-2 draw Sunday night.
In their only meeting in Portland last year, the Galaxy and Timbers both scored stoppage-time goals in a 1-1 draw. A year passed, and some things stay the same as two more late goals ensured both sides walked out of the building with only a point to show for their efforts.
Timbers forward Fanendo Adi scored a brace on the night, but it was his 90th-minute goal that sent the stadium into frenzy.
However, Galaxy substitute Alan Gordan, known for scoring late goals with the San Jose Earthquakes and for LA last year, latched his head onto a perfectly weighted corner kick from Stephen Ishizaki, and the ball looped over everyone and into the net.
Adi put the Timbers on the board first in the 31st minute with a curling effort around Galaxy goalkeeper Brian Rowe. After controlling a Galaxy cross, Adam Kwarasey quickly put the ball into play, and with precise passing, including a heel flick from Darlington Nagbe, to move the ball up field, Adi coolly bent the ball around Rowe.
The Galaxy would not be shut out, and after multiple attacks to start the second half, Gyasi Zardes jumped in front of the Portland goalkeeper, deflecting Jose Villarreal's whipping cross into the empty net. With the scoreline even in the 65th minute, both sides were desperate to find the winning goal in the waning minutes.
In the 90th minute, Timbers defender Liam Ridgewell sent a soaring long ball in the direction of a speedy run downfield by Nagbe. The midfielder easily controlled the ball mid-sprint, taking a touch toward goal and forcing Rowe to come out. At the last second, Nagbe sent a low cross to the top of the six-yard box, and Adi calmly slotted the ball over the line.
While everyone in Providence Park was still cheering and Timber Joey was still revving his chainsaw, Gordon headed his 92nd minute equalizer into the net. Once everyone realized what had happened, the only sounds to be heard in Providence Park were those coming from LA's bench and Timber Joey's chainsaw.
With the result, Portland has only earned two points in two matches with both being played at home. The Timbers will travel to Kansas City Saturday for their first road test of 2015. The Galaxy have four points in two matches and will head home to host the Houston Dynamo Saturday as well.