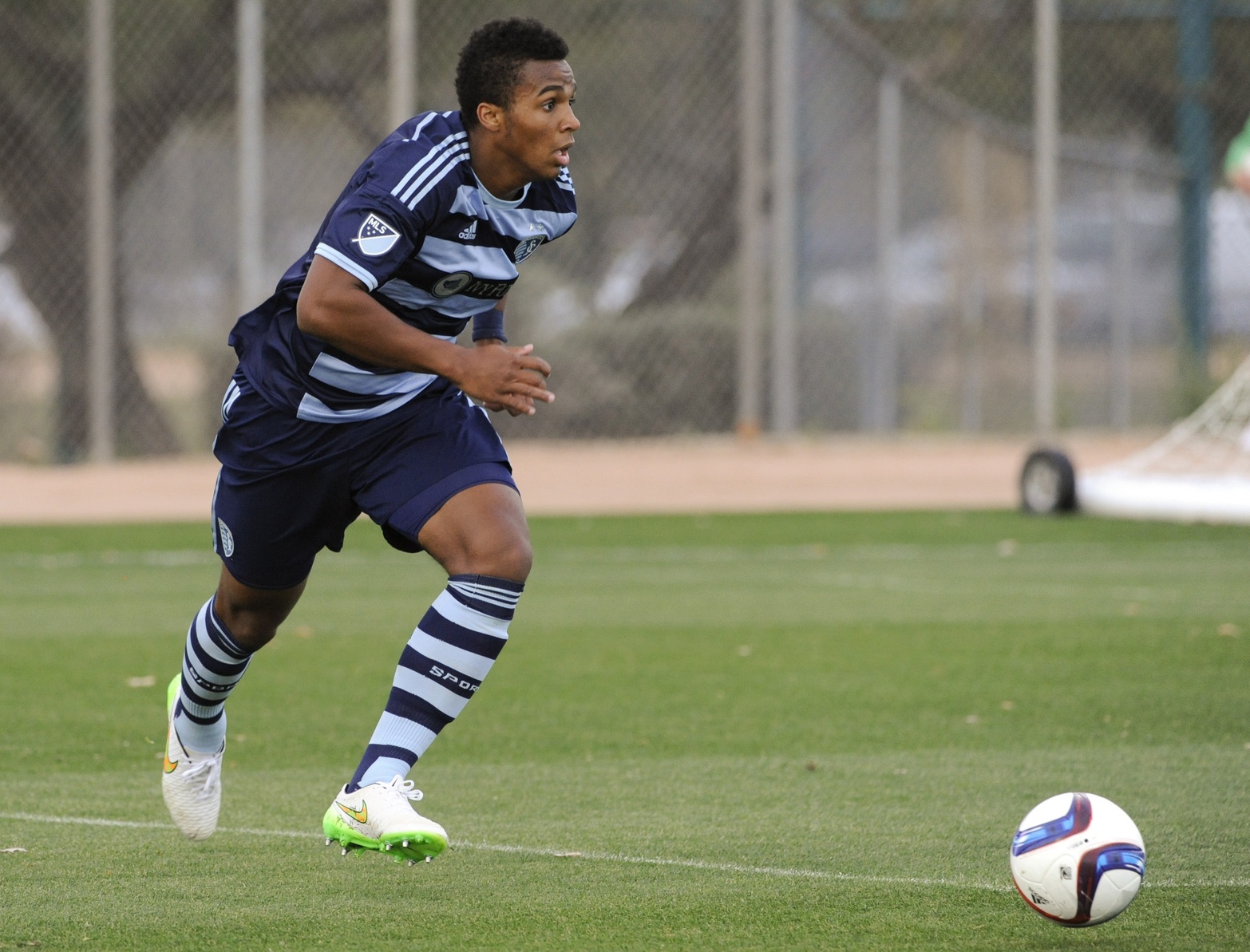 Photo by Casey Saplo/USA Today Sports Images
By TATE STEINLAGE 
KANSAS CITY, Mo. — The odds look increasingly likely that 17-year-old Sporting Kansas City defender Erik Palmer-Brown will make the jump to European soccer with Italian giant Juventus.
In fact, Sporting KC CEO Robb Heineman said Wednesday that there is an "80-20" chance that the homegrown defender joins Juventus, and that the two clubs have "kind of agreed" on terms of a deal.
While Heineman offered no timetable on a transfer, Palmer-Brown turns 18 on April 24, which would make him eligible for an overseas transfer in accordance with FIFA regulations.
"I'd say it's an 80-20 thing that it will happen," Heineman said at Sporting KC media day on Wednesday. "I think (Juventus is) interested, I think the player is interested in going there. I think the way that it would work out, there's probably pretty good likelihood that we would retain him as a player even if they have ownership of his card."
Heineman later clarified the latter part of that statement, confirming that a transfer would be permanent and that Juventus would retain Palmer-Brown's rights, but that the Italian club would likely loan him back to Sporting KC "for some period of time."
"It's not really a money issue, it's kind of more finalizing it," Heineman said. "It's weird to say that, but we've just got to go get it done. We've kind of agreed to everything. It's just a matter of are we going to push it across the end line."
Palmer-Brown told SBI on Wednesday that he's been told little about the situation throughout the last year of talks and that's he's focused solely on the upcoming MLS season with Sporting KC.
"I have no idea what's going on," Palmer-Brown said. "I just kind of go day-by-day and see what's on Twitter. That's what I see. That's the most I know."
He later said that despite not knowing the ins and outs of the situation, he regularly talks with Sporting KC manager Peter Vermes about his future in professional soccer.
"Just talking to Peter about my goals and what he sees from me is the kind of talks we have," Palmer-Brown said. "He understands what I want, and I understand what he wants, so it's a great relationship."
Palmer-Brown is the fourth-youngest player under contract in MLS. He became a Homegrown player in 2013 at the age of 16, making his first appearance at the senior level a year later. In 2014, he appeared in six matches across all competitions.
This isn't the first time Palmer-Brown has been linked with a move to Juventus. The Serie A heavyweights made a $1 million offer for him in January 2014, but Kansas City turned it down.
———-
What do you make of the latest Palmer-Brown to Juventus news? Would it be a good move for all parties involved?
Share your thoughts below.