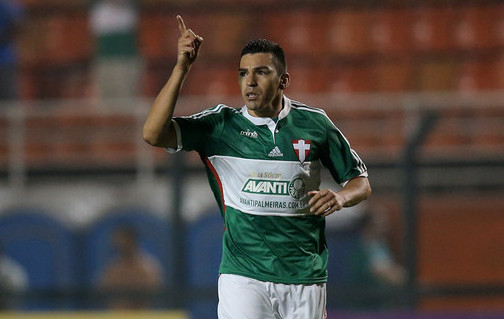 By RYAN TOLMICH
Things are far from a foregone conclusion, but the Fort Lauderdale Strikers have registered some interest in a former World Cup winner.
The Strikers have recently been linked with a move for Brazilian centerback Lucio, and sources have told SBI that there have been "exploratory" talks between the two parties. While there has been contact between two sides, sources say that "nothing is imminent" at this point.
Lucio, who most recently has featured for Brazil's Palmeiras, is most famous for his time with the Brazilian national team. The centerback was a part of Brazil's 2002 World Cup winning squad and played all 620 minutes in the tournament.
In addition, the 36-year-old has captured four league titles during his time with Bayern Munich, Inter Milan and Juventus, while also leading Inter in the club's 2010 Champions League triumph.
Here are some more of Wednesday's NASL news and notes:
ARMADA'S MILLIEN, NICKLAW CALLED UP TO NATIONAL TEAMS
The Jacksonville Armada are exactly one month away from the club's first NASL game, but first, two of their stars will need to handle business on the international stage.
Pascal Millien and Shawn Nicklaw have been called up to the national teams of Haiti and Guam, respectively. The two are the first players called up to a national team in the club's young history.
Millien was named Man of the Match in the Armada's 1-0 victory over the Fort Lauderdale Strikers on Feb. 28. The winger, who has made 21 international appearances for Haiti, will join his nation for the upcoming friendly with China on March 27 in Guangzhou, China, and again on March 31 against an Asian opponent that is to be determined.
Nicklaw, who has played four times for Guam, will join the team March 28 in Hong Kong for its international friendly against Hong Kong. The fullback also scored the game-winner in last week's victory.
"This is a very exciting honor for Pascal and Shawn," said Armada General Manager Dario Sala. "It is a great thing for our club when our players are called upon for international duty because of the exposure it generates. I look forward to seeing them both lead their respective nations to victory."
MARCELIN RETURNS TO STRIKERS
Following an offseason stint with Sporting KC, James Marcelin has returned to the Fort Lauderdale Strikers.
The Strikers announced Tuesday that the club has re-signed Marcelin,who featured 15 times for the club in 2014 as the club reached the NASL Championship Final.
"We are delighted to announce the return of James Marcelin," said Strikers Soccer/Partner Andre Chaves. "He brings a huge presence in the middle of the park with his power and great technical ability. He is a very important piece in our puzzle, and we expect him to do even better this year."
On the international level, Marcelin has made 20 appearances for Haiti and was a member of the nation's 2007 Gold Cup squad. The midfielder had initially signed with Sporting KC, but was waived in the preseason.
ROWDIES SIGN FORMER CREW DEFENDER SWEAT
Ben Sweat is the latest piece in the Tampa Bay Rowdies defensive overhaul.
The Rowdies announced Monday that the club had come to terms with the former Columbus Crew defender, who was the 14th pick of the 2014 MLS Draft. The 23-year-old is a local product hailing from Palm Harbor, while also playing college soccer at South Florida.
"I'm super excited for this opportunity to play in my home town and play in front of friends and family every game," Sweat said. "I'm proud to represent this club and wear a Tampa Bay Rowdies jersey. I'm looking forward to this season and getting out onto the field with a Rowdies logo on my chest."
"We are proud to bring Ben back to the Tampa Bay area," added Head Coach Thomas Rongen. "Not only is he technically gifted at the left back position, but he is also big and physical. This is a superb signing for our club and signals our intent for how we want to play this season."
—-
What do you think of the link between the Strikers and Lucio? How will Millien and Nicklaw fare with their national teams? What do you expect from Marcellin and Sweat this season?
Share your thoughts below.