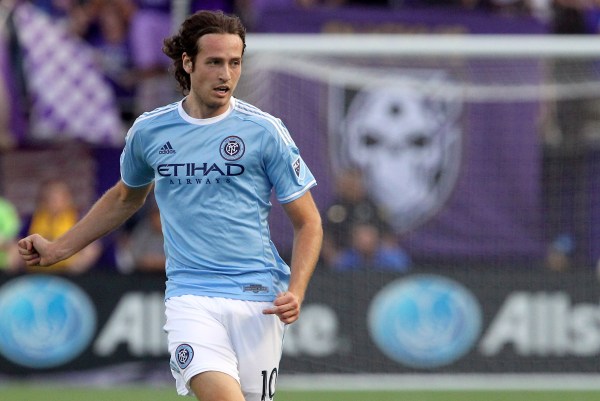 photo by Reinhold Matay/USA Today Sports
By FRANCO PANIZO
NEW YORK — Mix Diskerud had the chills and not just because it was cold outside.
As he drove through the city the other night, Diskerud caught a glimpse of a lit-up Yankee Stadium. Immediately, he thought about playing his first game there and could not help but get excited.
That vision will become a reality for Diskerud on Sunday, as he and New York City FC hold their much-anticipated home opener against Eastern Conference foes the New England Revolution. For Diskerud, the match will not only provide him the opportunity to play in the city that he has adopted as his home, but will also give the U.S. Men's National Team midfielder a chance to build on his strong season-opening performance.
Playing at the base of NYCFC's midfield in last week's 1-1 road draw vs. Orlando City, Diskerud shone with an 88-minute shift that underlined why he is a USMNT regular. It was not just Diskerud scoring New York City's first goal via an impressive curled effort that caught people's attention, but also his ability to connect smoothly on a wide range of passes to help NYCFC try and build the attack.
"He was incredible," said NYCFC defender Chris Wingert. "I thought he was by far our best player, and you can see how comfortable he's been. I don't want to overstate, but playmaking from that role in a (Andrea) Pirlo-type way – again, I know Pirlo is one of the best players in the world – but Mix really was outstanding the past couple of games.
"He's scored three games in a row now (including preseason) and they've all been excellent goals. Besides that, I think he's been great. He gets on the ball and he's threading these passes through and really helping distribute from a deep-lying role, and I'm super impressed."
That the 24-year-old Diskerud is able to handle that type of role speaks to the development of his game. Touted for his technical skills and vision, Diskerud began his career as more of a finesse player, one who could help link the defense and the attack but struggled when games got more physical.
A few years ago, U.S. head coach Jurgen Klinsmann left Diskerud off a game-day roster for a January friendly because he wanted to see Diskerud become a little grittier and tougher on the defensive end. It was not just about adopting the mentality of doing the dirty, less glamorous work on the other side of the ball, but also being able to get stuck in and scrap and claw against more physically-imposing players.
Diskerud took the message to heart. He sought the help of a nutritionist who helped him find ways to eat more protein, and had a personal trainer to help him bulk up a little. All of that paved the way for him to evolve into more of a two-way player, and he's looking to demonstrate that to casual and hardcore fans in his first year in MLS.
"Now, it's a perfect opportunity to show that playing a more defensive role," said Diskerud, who recently found a place in Manhattan with teammate Khiry Shelton. "After us having those conversations, I decided to hit the gym more and become a little bigger and I have actually, because I was a skinny guy before and there's different things I want to develop."
As much progress as Diskerud has made on the defensive side, you will not soon be confusing him with the likes of Jermaine Jones or Kyle Beckerman. Diskerud's bread and butter remains his poise and skill on the ball, which was on display for all to see in last Sunday's clash with Orlando City.
Diskerud was constantly in the thick of things when NYCFC was in possession and on the attack, staying central on some plays but also floating out to the right on others. Still, his big moment came in the 76th minute when he received a deflected pass from David Villa and bent a shot around a crowd of Lions defenders and into the bottom corner.
"It's very difficult to describe it, because unless you play soccer or different sports I don't think you really get that rush," said Diskerud of scoring NYCFC's first official goal. "When you turn around and you see everybody running towards you, you understand that you just scored a goal and it's huge.
"Usually, the stadium goes nuts but since we were playing an away game I saw a little section going crazy. I was running at them, pointing at them. It was fun to celebrate with them even though it was a small (NYCFC) crowd."
A much larger contingent of NYCFC fans will be on hand for Diskerud and NYCFC on Sunday at Yankee Stadium. The game against the Revolution is projected to draw a crowd of more than 30,000, and Diskerud is eagerly looking forward to playing and delivering in front of all of those supporters.
"This is the moment we've been waiting for," said Diskerud. "I heard it's going to be a lot of people coming out, so I can't wait. We want to give them a good showing, hopefully entertaining, good soccer, and maybe even a win."