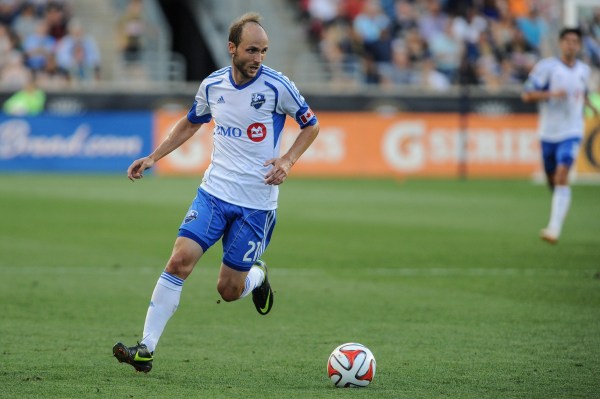 Photo by John Geliebter/USA Today Sports
By CLIFF STARKEY
WASHINGTON— The Montreal Impact will be without Justin Mapp for an unknown length of time, as the midfield playmaker suffered a dislocated left elbow in Montreal's 1-0 loss to D.C. United in Washington, D.C., on Saturday afternoon.
Montreal Impact Head Coach Frank Klopas confirmed the injury as a dislocation, though isn't sure how long he'll be out for.
"It's a dislocated elbow," Klopas said following the deafeat. "Right now, they have taken him to the hospital to [repair the damage]. After that, I don't know. I don't know how much longer something like that takes."
Though the RFK Stadium grounds crew did all they could to ensure the game could go on this weekend, two days after seven inches of snow and ice hit the nation's capital, Klopas said the condition of the field may be to blame.
"The problem is the field. With a better field [Mapp's first touch is better]," Klopas said.
Late in the game, Mapp was released into a one-on-one with Hamid. Mapp's slow first touch allowed D.C. United's defense to catch up with him, and defender Chris Korb's challenge caused Mapp's shot to be saved, while Mapp himself tumbled to the ground.
D.C. United Goalkeeper Bill Hamid was visibly disturbed immediately following the injury, turning away in horror after seeing the condition of Mapp's elbow.
"He tangled up with [Korb] after his shot," Hamid said. "Once he laid on his back, you could see his elbow looked like it was out."
Mapp is already suspended for Montreal Impact's upcoming CONCACAF Champions League semifinal first leg against Alajuelense. The team will have to wait until early next week to find out how long they'll be without their midfielder.