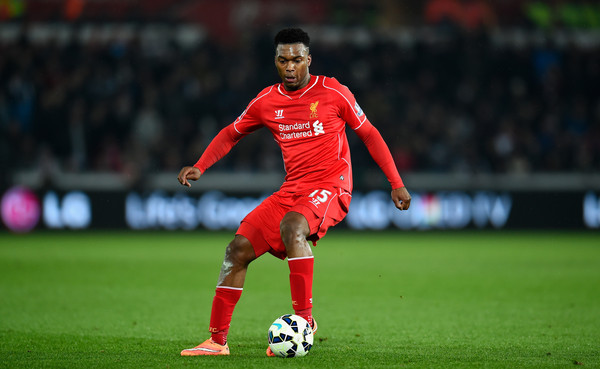 By RYAN TOLMICH
After missing the first few months of the season with various injuries, Daniel Sturridge appears to be once again set for a spell on the sidelines.
England manager Roy Hodgson revealed Thursday that the England medical staff has discovered that Sturridge has picked up a slight tear in his hip muscle. Sturridge's season had previously been derailed by thigh and calf injuries that kept the striker on the sidelines for five months to start the season.
"I'm a little bit disappointed for Daniel Sturridge, because when he came to us, he didn't really feel that the slight problem he felt would be any problem at all," Hodgson said. "When we did the scan and it turned out that there was a problem, he was absolutely devastated, because he didn't want to leave us.
"There was no option, because he had a slight tear, and you can't play through that."
Here are some more news and notes to kick off your Friday morning:
REAL MADRID FANS FACE FINE, BAN FOR ATTACKING PLAYERS' CAR
The fans responsible for attacking the cars of Real Madrid players are set to face repercussions for their actions.
Spain's State Commission Against Violence, Racism, Xenophobia and Intolerance in Sport, which deals with incidents surrounding La Liga, is set to fine those involved €3,001 ($3,245) while also issuing a six month ban.
The punishments come after the club had identified those responsible for the incident while referring the issue to the judgement of the commission.
HAZARD CITES DIFFICULTY OF PREMIER LEAGUE AS CAUSE OF CHAMPIONS LEAGUE EXIT
Chelsea was unceremoniously bounced from the Champions League by Paris Saint-Germain, but winger Eden Hazard is looking to take some positives away from the event.
Hazard called Chelsea's exit a "blessing in disguise" as the club looks to focus on claiming the Premier League crown to go with the already captured League Cup. However, Hazard was also quick to point out how difficult the league is, while also citing its impact on the club's Champions League shortcomings.
"The English league takes so much energy. After that, it's hard to move onto the European competitions," Hazard said. "When you know that, at the weekend, you have a difficult game at West Ham, at Stoke, at Hull, and that you have to play a top European team in the week…
"It's also just a bad year. We weren't lucky. Arsenal played a really good second game against Monaco. They could have gone through, just like us."
QUICK KICKS
The Premier League has promised to share £1 billion ($1.49 billion) of the league's TV deal with the Football League, grassroots football and away fans' funds. (REPORT)
Sami Kehdira confirmed that he will be leaving Real Madrid in the summer. (REPORT)
Harry Kane will be used as a substitute against Lithuania in England's Euro 2016 qualifier on Friday. (REPORT)
Paul Scholes says that Gareth Bale would be a "perfect" signing for Manchester United. (REPORT)
—
How will England and Liverpool cope with Sturridge's injury? Do you agree with the punishment handed down to Real Madrid fans? What do you think of Hazard's comments?
Share your thoughts below.