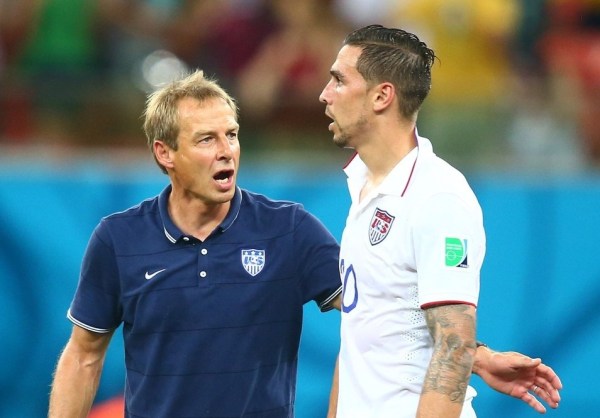 Photo by Mark J. Rebilas/USA Today Sports
By RYAN TOLMICH
For months, U.S. Men's National Team head coach Jurgen Klinsmann promised to bring in the strongest team possible for the team's upcoming friendlies, but when the roster was released over the weekend, some of the team's more familiar faces were left with their respective clubs.
Defensive mainstays Matt Besler, Omar Gonzalez and Geoff Cameron were left off the roster in favor of a group with much less experience, including the uncapped Ventura Alvarado.
For Klinsmann, leaving some of the team's regulars, and Cameron in particular, off the roster was a difficult decision, but one that the coach feels could be a productive one in terms of getting a closer look at prospects for the upcoming Gold Cup.
"Similar to the situation with Omar Gonzalez and Matt Besler coming out of MLS and not being on the roster for these two games is Geoff Cameron," Klinsmann said in an interview released by U.S. Soccer. "Geoff is obviously in a good swing with Stoke City and the Premier League, but I had long conversations with him and explained that just now I would love see other players coming in and proving to us how good they are. So here and there, there are these 50-50 decisions where you have to leave a player out that is usually a regular on your team.
"Geoff is that one right now. We know he can play centerback, he can play right back, he can play defensive-mid. He's so versatile he's always of great help to the team, but I wanted to see other players now coming in and therefore he has to swallow that pill real quick of being left out in these two March games."
While Cameron is thriving with Stoke City, Klinsmann's roster also includes a pair of youngsters struggling for action, as DeAndre Yedlin and Julian Green are set to join up with the team despite their lack of time on the field with their respective clubs.
Both players are eligible to join up with the U.S. youth teams, with both the Under-20s and Under-23s in action in the immediate future, but, for Klinsmann, the call-ups represent a chance for the two to regain some confidence while also continuing their development with the senior team.
"At the end of the day, you've got to break through no matter what," Klinsmann said. "Deandre Yedlin, you've got to kick somebody out of Tottenham to play there. Julian Green, you've got to kick somebody out in Hamburg to play there. So the message is the same to all of them. In that process it's not only what happens on the field, it's also what happens off the field.
"You have young players getting in a different environment, struggling maybe with a new country with a new club environment, so we're also there to help them develop. This will always be a big discussion point with Tab and with Andi Herzog when we talk about those players."
Two other younger players that Klinsmann opted to bring in come via Mexico, as the roster includes the uncapped Alvarado and goalkeeper William Yarbrough.
The pair of Mexican-American dual internationals have recently impressed in Liga MX, and Klinsmann has kept a watchful eye on the development of the two youngsters as they have emerged as bonafide starters for their clubs.
"We have a network of people in Mexico, which was really established by Martin Vasquez when he was with me as my assistant," Klinsmann said. "So we have very good contacts, I can always kind of call people. I can always ask questions about specific players coming through the Liga MX. So William is a great example of how this network works. They call you and they tell you that there's kid that was born in Mexico to American parents, so he thinks both ways. So we had a close look at him. I had people go to his games. I called him myself and talked to him at length to see where his head is and he was thrilled.
"I think Ventura Alvarado is a great example to show how fast it really can go if you break into your club. Obviously a club with the caliber of a Club America is huge. It's very difficult to break through there, so we understand that. We went down there to watch him several times, been in touch with him for months to see his progress, and we're excited. We had conversations with him, and he was clear that he would love to represent the United States, that he would love to play for us. So this is a good time."
Overall, the March friendlies are a good time for Klinsmann a chance to look at both regulars and prospects with one eye on this summer's Gold Cup. Klinsmann hopes to make a statement with the upcoming pair of matches, while also seeing each player step up and earn their spot in the side.
"We want to prove that we can really compete with these guys in their countries, in their homes and get results there," Klinsmann said. "We want to see that the players give everything they have in terms of making their own cases for the Gold Cup, because the Gold Cup should obviously should take us to the Confederations Cup 2017 in Russia, so we need to be spot on. This is the way to showcase yourself in these two games.
"I think this is a constant work in progress that we're going through, which obviously gets then to a critical moment once you approach a bigger tournament and you have to make your cut and you have to say these 23 will play the Gold Cup, these are the guys that are going to go through in order to qualify for the Confederations Cup in Russia in 2017."