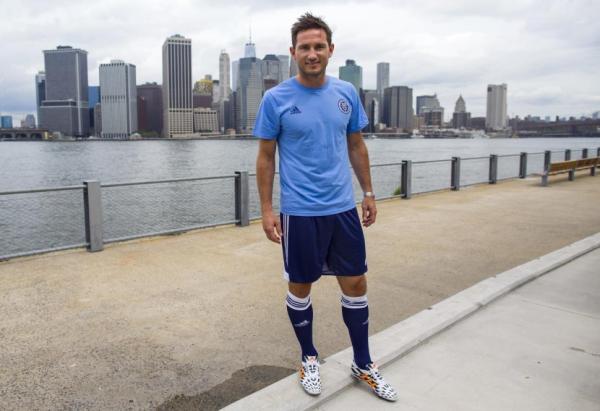 By AARON CRANFORD
While he remains a member of Manchester City for the time being, Frank Lampard is already looking forward to facing off with current Liverpool midfielder and former England teammate Steven Gerrard this summer when the two collide in MLS.
"August 23! It's at their place," Lampard said in an interview with the Press Association Tuesday. "A day after my (older) daughter's birthday, so I should know. I think it is great for the league. I have said before, the league is really coming on. People in Europe at the top leagues are talking about it.
"I look forward to being competitive against Stevie. We get on very well, particularly in our latter years as captain and vice-captain of England. I have a huge amount of respect for him."
The NYCFC match with the Los Angeles Galaxy is months away, but Lampard may be crossing the pond to join New York City FC sooner rather than later. Regardless of his arrival date, Lampard has seen plenty of his new club and believes his club is doing spectacularly to start their inaugural MLS campaign.
"I've watched their games and thought they looked fantastic," Lampard added. "The home game particularly, I thought the atmosphere in the ground, the crowd: I've had feedback from inside the club about what a buzz there is for it in the city. I was delighted for the lads."
With little playing time at Manchester City in the English Premier League recently, the England international is ready to make an impact in the States.
"At 36 I got asked to come to the champions and a club with this pedigree" he said. "I am delighted that happened as it has done, and I am delighted about the future and the opportunity to go and play in New York – to try and make the best of it individually, to help there and also be part of a new football club in one of the best cities in the world. I am fortunate."
—
What do you think of Lampard's comments? How will he fit in with NYCFC when he arrives? How do you foresee the eventual matchup with the LA Galaxy playing out?
Share your thoughts below.