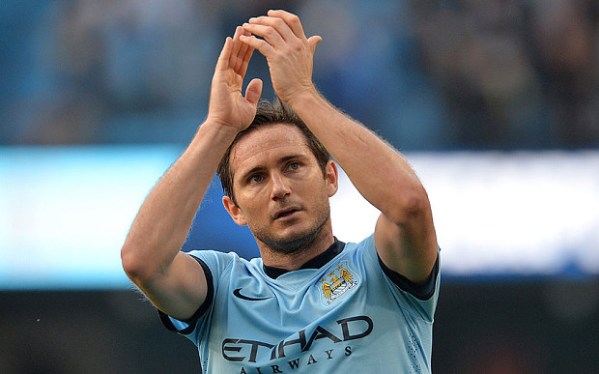 By FRANCO PANIZO
NEW YORK — Frank Lampard will be meeting up with New York City FC earlier than expected. It just will not be for very long.
Currently in the midst of enjoying a pause in Premier League action due to FIFA's international break, Lampard has planned to make a quick trip from Manchester to the Big Apple this weekend. The 36-year-old midfielder is hoping to not only better familiarize himself with the city that he will soon call home, but also intends to further get to know how NYCFC operates as a club.
Lampard will only spend a few days in New York, but NYCFC happen to play during that time. The expansion club hosts Sporting Kansas City at Yankee Stadium on Saturday, and Lampard, who has signed to join NYCFC this summer, will be in attendance.
"No, I have not yet spoken to him, but obviously we'll get to spend some time together and it's really exciting," said NYCFC head coach Jason Kreis on Wednesday. "He's going to take the time and make the effort to come over and see us this weekend when he has a break and I look forward to spending some time with him and also getting him around the guys some more. I think that's important."
Lampard was initially expected to join Kreis' team for the start of its MLS tenure, but a controversial decision was made this winter to allow him to stay at NYCFC's parent club, Manchester City, through the end of the season.
That was back when Lampard was playing a big role for the English outfit, but things have changed in recent months. His playing time has diminished, and with Manchester City no longer in serious contention to win silverware this season, reports have begun to surface saying that Lampard could potentially join NYCFC sooner.
Kreis, however, shot that possibility down on Wednesday.
"No, it's certainly not something that's being discussed," said Kreis. "We're approaching this in the exact same way that we have since in January when we found out for sure that he was staying until the summer, and we need to prepare ourselves and be ready for him to join us in the summer.
"We're still very excited about that prospect, but we're not going to speculate on anything happening sooner than that."
For now, New York City continues to make do without their second Designated Player. The club is currently unbeaten and in first place in the Eastern Conference with a 1-0-2 record, but both its players and staff are eagerly looking forward to Lampard's impending arrival in June.
"We met him in Manchester in preseason. He's a great guy," said midfielder Mix Diskerud. "I can't wait to get to play with him. He obviously is a high-class player and is going to contribute a lot of things. I can't wait for him to come. In Manchester, I told him just to take it easy. The midfield will be great, we'll take care of it until you come, so when he comes, it's going to be fun."
Added DP forward David Villa: "He's one of the best players in the world, a legend, and when he gets here he will make us better, no doubt."