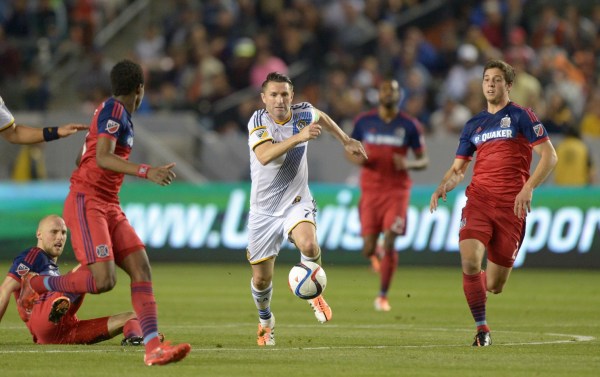 Photo by Kirby Lee/USA Today Sports
By RYAN TOLMICH
Robbie Keane is in the final year of his contract, but the reigning MLS MVP isn't planning on leaving Los Angeles any time soon.
The LA Galaxy forward says that he is currently negotiating an extension with the club. Keane scored 21 goals and provided 11 assists for the Galaxy en route to an MVP award and MLS Cup trophy.
"I've still got a year left at the Galaxy and we're negotiating another contract at the moment," Keane said. "So that will keep me there for a few more years."
Keane and the Galaxy are back in action Sunday on the road against the Portland Timbers.
Here are some more of Tuesday's MLS news and notes:
OPENING WEEK SEES BUMP IN TV RATINGS
With new network deals in tow, MLS is already smashing last season's TV viewership numbers.
Sunday's match between Orlando City and New York City FC averaged 539,000 viewers on ESPN 2, more than twice the network average of the 15 regular-season broadcasts in 2014. In addition, UniMas' broadcast of the season-opener between the LA Galaxy and Chicago Fire on Friday night drew 341,000 viewers, up 44 percent from last season's opener.
The Fox Sports games that pitted Sporting KC against the New York Red Bulls and the Seattle Sounders against New England Revolution drew an average 278,500 viewers, more than double than the average of last season's NBCSN broadcasts.
Take a closer look at the viewership for this weekend's action below:
AVERAGE MATCH VIEWERSHIP
539,000 Orlando City-New York City (ESPN2)
341,000 LA Galaxy-Chicago (UniMas)
289,000 Seattle-New England (Fox Sports 1)
268,000 Sporting KC-NY Red Bulls (Fox Sports 1)
ORLANDO CITY CONSIDERING OPENING MORE SEATS IN CITRUS BOWL, FUTURE STADIUM
Orlando City succeeded in filling the bowl, and now the club is contemplating just how much it can continue to be filled.
President Phil Rawlins says that the club is considering expanding the Citrus Bowl after previously opting to cap attendance at 20,000. In addition, the club could add additional seats to their future home, set to open next season.
"Our evaluation is really important," Rawlins said according to the Orlando Sentinel. "Over the course of the next few days let's look at that, let's figure out first of all, number one, what do we need to do, if anything, in this current season to help manage capacity, and then number two, let's look at the stadium. Can the stadium be increased? Can we do that easily and quickly? If that's the case, then we need to look at it. So we'll take it step by step.
"I think what's really important to us now is the next four or five games as a franchise," Rawlins added. "Where are we, what kind of marketplace do we really have? Are we Seattle, are we a Seattle in the waiting? …The real question here is will that demand continue and what level will it continue at?"
RED BULLS' LUYINDULA CONSIDERING PLAYING FUTURE
Reports have recently surfaced that New York Red Bulls midfielder Peguy Luyindula is contemplating retirement, but head coach Jesse Marsch says things aren't quite so straight forward.
Luyindula, who scored five goals in 23 appearances last season, has been away from the team and was not with the Red Bulls for their 1-1 draw with Sporting KC. Despite retirement rumors, Marsch insists Luyindula is not yet done with the team and is still thinking over his options.
"There's nothing to announce other than just to say Peguy is taking some time to think about what his future is going to be," Marsch said according to NJ.com. "That's really the only thing to talk about right now, out of respect for Peguy."
—-
How many more years do you expect to see Keane with the Galaxy? What do you think of the TV numbers? How many fans could Orlando City draw? What do you expect from Luyindula?
Share your thoughts below.