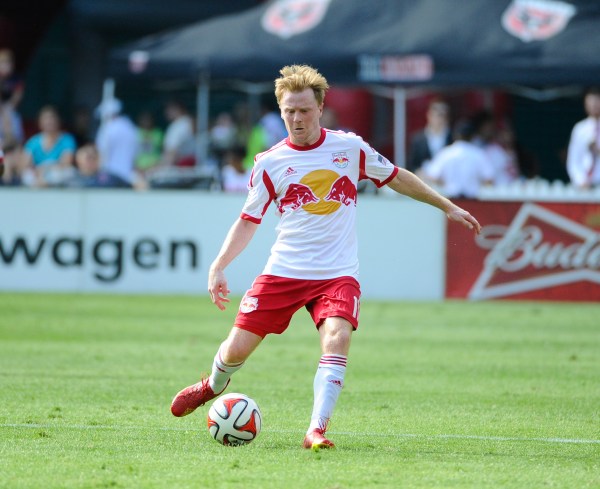 Photo by Brad Mills/USA Today Sports
By FRANCO PANIZO
HARRISON, N.J. — Dax McCarty is on the field at Red Bull Arena, and he's not happy with how he just hit his last pass. The ball was off the mark by a couple of feet, and McCarty's teammate couldn't trap it in a good position. McCarty proceeds to give a quick shout of frustration, demanding more of himself despite there being plenty of time to make up for it.
This is not McCarty in an in-game scenario, however. This is him post-practice, as he plays in a competitive match of horseshoes with his New York teammates.
The game itself is simple: Split players into teams of twos, and drop two cones about 15 yards apart. One teammate then hits a pass from his cone to the area of his teammate, who has only one touch to bring it down as close as possible to his cone. The team with the ball closest to the cone gets a point. The team with the most points wins.
McCarty is commonly seen involved in these matches when the Red Bulls practice at their soccer-specific stadium. It's a glimpse of the competitive drive that has fueled McCarty all of his life, and what has earned him the club's captaincy at the start of a new era under head coach Jesse Marsch.
"One of his best attributes is his competitiveness, his engine, his fire," Red Bulls goalkeeper Luis Robles told SBI. "Let's start with the competitiveness, because he is that, then he's going to demand that from other people, and because he's got an engine that doesn't stop, it continues to set the example for what we expect players to put forth on the field.
"Those two things alone can carry a team, that competitiveness and that drive, and so if every single individual from the first person to the last person continues to mirror what he resembles or what he's about, it's going to be a pretty good team."
Those characteristics are what helped Marsch come to the decision that McCarty would be his first captain, the man chosen to replace retired legend Thierry Henry. Those are not easy shoes to fill, of course, but if anyone has earned a similar type of respect in the Red Bulls' locker room over the years it's McCarty.
The 27-year-old central midfielder arrived in New York via a trade from rivals D.C. United in 2011, and has been a staple of the the Red Bulls ever since. He has not only carved out a starting role under three different coaches at the club, but his steady performances have made him integral to the club's ability to churn out wins.
Simply told, he has been and continues to be a big part of the fabric at a club that has seen so much turnover and controversy. Being named its captain is truly an honor.
"It's hard for me to put into words how much it means to me to be captain for this club," said McCarty. "I've been here close to, going on my fifth year now, in this uncertain profession that we're in (where) you never know how long you're going to be somewhere. It's kind of funny, I was made captain at D.C. United, I thought I was going to be there 10 years and four months later I'm traded.
"These are just things that you never know how it's going to work out, so when I got traded to New York, my mindset was, 'Well, I hope I'm here longer than four months.' But, at the same time, now that I've been here as long as I have and now that I've got to really interact with the fans of this club, now that I've got to experience all that this club has to offer, I feel like I've been treated so well and I've tried to return the favor and show this club how much it means to me on and off the field.
"It's really hard to describe how it feels to be captain of the club. I wear it with a lot of pride. I know that I have some pretty big footsteps to follow, but I'm going to be a leader in my own way and I'm going to try and do things the way that I always have. I'm a vocal guy, but I try to lead by example and I'm going to continue to do that."
Apart from being known for his consistent shifts in the center of the park, McCarty also has the reputation of being somebody the media really likes. He gives long-winded answers like the one above more often than not, and is almost always willing to talk about any subject.
The few times over the years when McCarty has escaped New York's locker room and avoided talking to the press has been after losses. It's not that he can't face the music when he has a bad performance – he's done so countless of times through the years – but rather his frustration with losing boiling over.
You see, McCarty has been a competitive person all his life. He has a younger brother, Dustin, who was born 17 months after him, and the two have seemingly gone toe-to-toe since they learned how to walk. It's that "deep-seeded sibling rivalry" that has given the elder McCarty the fire in his belly, and what has paved the way for his success in MLS.
"Literally growing up, every single thing was a competition and if I didn't win I was furious and if he didn't win he would cry and say that I cheated or something like that," said McCarty. "This has just kind of been born into me since I was a young guy, and it's just kind of manifested itself and grown every since I was playing club soccer to Under-17 national team to college to a pro.
"Even when I first came into the league and was a rookie, I was this little crybaby who never wanted to lose and always wanted to win," McCarty said. "This is the way you get better, is to never be satisfied. If you're satisfied with being on the losing end of it then you're probably in the wrong profession."
Marsch knew about that winning mentality even before he was named head coach of the Red Bulls this past winter. Marsch had become familiar with McCarty from different U.S. Men's National Team camps and from playing against him a bit during Marsch's playing days.
The knowledge of who McCarty was as a person and player led Marsch to sit down with the midfielder, who is listed at 5-foot-9 but is shorter, before any other player following the controversial dismissal of head coach Mike Petke. Marsch and McCarty spoke for a couple of hours over coffee about the new manager's vision for the club, and how important McCarty was going to be to help drive it.
A few weeks and full preseason later, on the cusp of the 2015 opener vs. Sporting Kansas City, McCarty was named captain.
"When we got to the point to make the decision for him to be the captain, he was honored, he was excited, he thinks it's the time in his career for a responsibility like that," said Marsch. "That's the biggest thing for a captain: It becomes so much less internal and so much more external, and so helping him and all of our leaders understand that they can't just focus on themselves, but they've got to have the mission of the group on their minds."
As far as that's concerned, there might not be a better player on the Red Bulls right now. In addition to having a winning mentality, McCarty deeply cares about the well-being of the club. He might not be as boisterous or accomplished, but he's also a team player, one that does not put himself nor his statistics before the club.
That said, his competitive nature drives him to want to be on the field at all times. There was even a moment last year when an injury prevented McCarty from playing, and it affected him emotionally in a big way.
"Being the in locker room, joking around, bantering about, for him not be able to have that felt like a part of him was missing," said Robles. "You see just how invested he is, and how attached he is to the guys and I knew that this is the type of guy that I want to play for, that I want to be next to."
McCarty will soon play his first home game at Red Bull Arena as captain, as New York hosts rivals D.C. United on Sunday. The Eastern Conference match will provide McCarty the opportunity to not only reacquaint local fans with his competitive nature, but also give him a chance to show off what type of leader he will be.
"Where Dax goes, the team's going to go," said Robles. "He has the veterans behind him, the young guys look up to him."