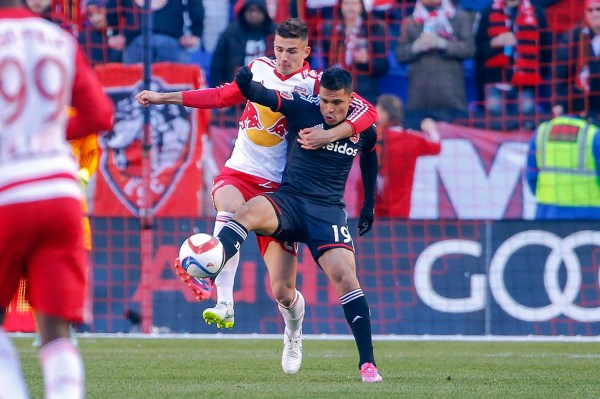 Photo by Jim O'Connor/USA Today Sports
By FRANCO PANIZO
HARRISON, N.J. — Matt Miazga may have missed much of the preseason with an injury, but that still did not stop him from turning in a solid performance in his first start of the year.
Replacing injured centerback Ronald Zubar, Miazga helped the New York Red Bulls post a 2-0 cleansheet victory in their home opener against arch-rivals D.C. United on Sunday. He was sound defensively next to unfamiliar centerback partner Damien Perrinelle and composed on the ball for much of the 90 minutes, looking every bit like a grizzled MLS veteran and nothing like the 19-year-old teenager that he still is.
Not even his most notable hiccup – a late foul on Davy Arnaud that led to a missed penalty kick – was enough to ruin the night.
"Overall, I thought he was very good, that his awareness of where guys were around him, his connecting – with Damien and when Chris (Duvall) would slide out – I thought he was connected in good ways," said head coach Jesse Marsch. "He was good with his feet, he didn't lose many balls. Overall, I thought he was very, very alert and maybe gets caught a little bit in the end, but for me that's one of his best MLS performances to date and I only think he's going to get better.
"I really believe in the kid. I really do."
So much so that the Red Bulls opted to keep Miazga for this coming week instead of releasing him to the U.S. Under-20 Men's National Team. Miazga said "club obligations" were why he was surprisingly omitted from Tab Ramos' roster on Sunday, but did so while wearing a U.S. Soccer t-shirt.
A part of him wants to be with the U.S. this coming week given that the U-20 World Cup is drawing near, but Miazga knows how beneficial it could be for his country if he stays with his club and plays in games like the one on Sunday.
"This is a very high level here in MLS," said Miazga. "I'm just going to get better, keep getting better, keep getting my confidence going and really establish myself this year with Red Bull and with the national team. Then when the opportunities come up, I've got to perform."
Miazga did that and then some against D.C. United. While he started the match looking a bit tentative, he settled in and improved with each passing minute. By midway through the first half, the 6-foot-3 defender was helping a makeshift Red Bulls defense keep Jairo Arrieta and the rest of D.C. United's attack in check, much to the delight of the announced crowd of 21,036 at Red Bull Arena.
This was Miazga playing some of the best soccer of his still blossoming career, but goalkeeper Luis Robles – who was rarely tested over the course of the 90 minutes – warned not to make too much of this one outing.
"The one thing that you see with young players is that they often times come with a lot of hype," said Robles. "If they can rise above that hype and develop a professional attitude, to be able to do it week in and week out, consistency, that usually dictates how successful they are. So for him, it's about developing that professionalism and if he can be consistent, if he can perform, the sky's the limit."
With Zubar inching his way towards full health, Marsch will likely have a decision to make next week with regards to who lines up alongside Perinelle in the heart of New York's defense. Miazga may or may not be the favorite for the spot, but he sure made quite the case for himself on Sunday.
"I worked hard after my injury to get back to fully fit and know the system and learn more under Jesse," said Miazga. "I'm glad we got the three points. I played fairly well. Everyone put a good shift in and now we move onto Columbus Crew next week."