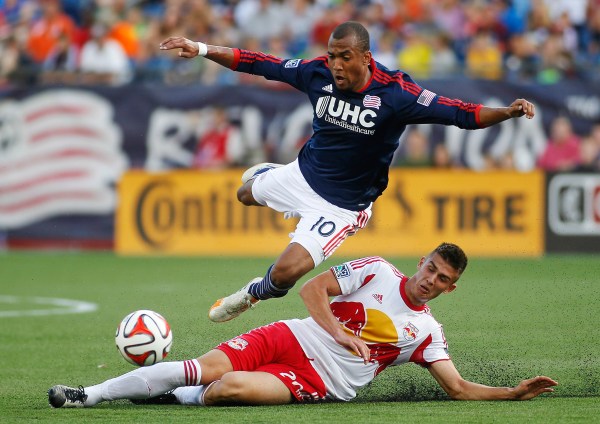 photo by Stew Milne/USA Today Sports
By FRANCO PANIZO
HANOVER, N.J. — Already dealing with the challenge of having to come together as a unit due to the introduction of several new faces, the New York Red Bulls' defense is set to undergo at least one more change this weekend.
Injuries to starting centerback Ronald Zubar and left back Roy Miller have the Red Bulls' back line limping into their home opener on Sunday against D.C. United, and there is a chance both could miss the game. Miller has already been ruled out due to a knee injury picked up in training on Monday, and the hamstring Zubar injured in the season-opening draw vs. Sporting Kansas City is improving but not quite ready yet.
If both are unavailable to go this weekend, New York's revamped defense will be missing half of its starters from Week 1. Head coach Jesse Marsch is holding out hope that only Miller will miss the rivalry match vs. D.C. – Zubar's recovery is "day-to-day" – but it sounds as if both centerback Matt Miazga and recently-signed fullback Kemar Lawrence will get the nod.
"Those are both important guys, Ronald and Roy, but I think that all along we've known that Matt's a talented young guy and we want to find ways to give him opportunities, so obviously it's coming at a good moment for him," said Marsch on Wednesday. "Then, at left back we think that Kemar Lawrence has a lot of potential and he fits the way we want to play and he's been very good here since he's been here. We're excited about the opportunity for him to play."
In Week 1, Marsch fielded a back line that included two new starters and the Red Bulls went on to post a 1-1 road draw against Sporting KC. Second-year fullback Chris Duvall started on the right flank and Miller on the left while Zubar and Damien Perrinelle were deployed centrally.
Some quality chances were given up in the match at Sporting Park, and while that might not seem to bode well for New York's chances this weekend, the club remains confident in its other players.
"It doesn't matter who's out there, the gameplan is still the same," goalkeeper Luis Robles told SBI. "They understand what our defensive philosophy is about. They've been working on it over the last six weeks, and it's something we don't expect to drop off by any means."