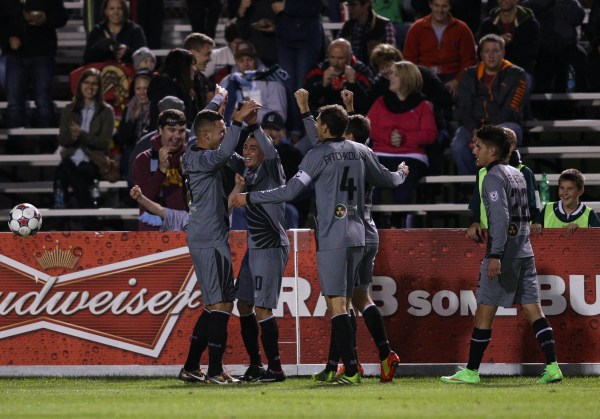 By FRANCO PANIZO
The second-to-last MLS expansion team will soon be awarded, and it appears that Minnesota will be the one claiming victory.
NASL club Minnesota United's bid to join MLS is expected to be accepted and an announcement could come in a matter of weeks, according to a Friday report from SI.com. Minnesota United will beat out the NFL's Minnesota Vikings – who also were attempting to land an MLS franchise – as well as Sacramento Republic for the 23rd franchise in the soccer league.
MLS has reportedly already signed a Letter of Intent for Minnesota United's plans to build a soccer-specific stadium in downtown Minneapolis, which the club needs in order to be officially awarded a franchise in the top division.
Minnesota United – whose investor group for MLS also includes Minnesota Timberwolves owner Glen Taylor and MLB's Minnesota Twins owner Jim Pohlad – already has an option in place to acquire a piece of downtown land. No official terms for a stadium have been agreed upon yet, however.
The club's plans to build a soccer-specific venue differ from that of the Vikings. A $1 billion, 65,000-seat domed stadium is already being constructed for the NFL team, and the Vikings were planning on using a mechanism to reduce the capacity and make for a more intimate feel for its desired MLS franchise.
If Minnesota United comes to terms on a deal and becomes the 23rd franchise, MLS will have one spot left to fill before reaching the 24-team mark the league has said it we hit by the end of the decade. It seems all but guaranteed that the final expansion franchise will be awarded to one of David Beckham, who wants to launch a team in Miami, or Sacramento Republic.
MLS commissioner Don Garber said last week that an announcement on the next round of expansion would come in 45 days.
—–
What do you make of Minnesota United reportedly winning an MLS expansion franchise? Think the club's bid was better than the Minnesota Vikings'? Who do you see winning the 24th franchise, Miami or Sacramento?
Share your thoughts below.