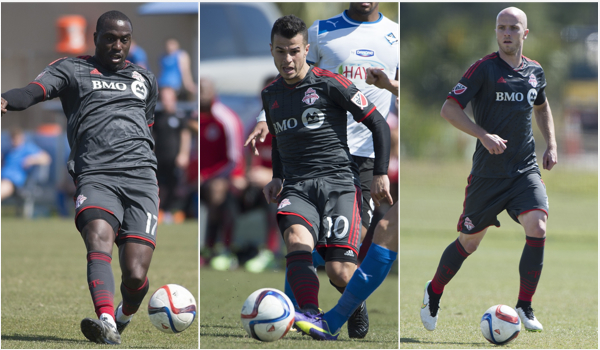 By RYAN TOLMICH
Heading into the 2014 season, Toronto FC was built upon a promise of being a "bloody big deal". However, by the end of the day, it's hard not to look back upon the past season as anything but a bloody big disappointment.
Despite all of the headlines, promises and potential, TFC missed out on the playoffs once again in 2014, leaving the club still searching for its first postseason appearance after eight seasons in existence.
That club will now look to remedy that situation in 2015, head coach Greg Vanney's second season with the club. In an offseason headlined by the acquisitions of Jozy Altidore and Sebastian Giovinco, TFC have once again constructed a team that, on paper, looks to be among the leagues best.
Whether that promise comes to fruition is a whole other issue, as 2015 has all the makings of what could be the first truly successful year in club history. With now-captain Michael Bradley leading the charge, TFC now appear ready to emerge from mediocrity to not only make a postseason appearance, but perhaps even challenge for an MLS Cup.
Here's a closer look at the 2015 Toronto FC:
TORONTO FC SEASON PREVIEW
2014 FINISH: 11-15-8, 49 points (sixth in Western Conference)
KEY ACQUISITIONS: F Jozy Altidore (Transfer from Sunderland), F Sebastian Giovinco (Free), D Damien Perquis (Free), M Benoit Cheyrou (Free), M Marco Delgado (Dispersal Draft), F Robbie Findley (Re-Entry Draft), D Eriq Zavaleta (Trade with Seattle Sounders), GK Alex Bono (MLS Draft)
KEY LOSSES: F Jermain Defoe (Transfer to Sunderland), F Gilberto (Loan to Vasco da Gama), D Doneil Henry (loan expired), M Kyle Bekker (Trade to FC Dallas), F Dwayne De Rosario (option declined), F Dominic Oduro (Trade to Montreal Impact)
NEWCOMER TO WATCH: Damien Perquis. The acquisitions of Jozy Altidore and Sebastian Giovinco may have captured a majority of the headlines, but the addition of Perquis could prove to be just as important. Having had experience in both France and Spain, Perquis will be expected to anchor the backline alongside fellow veteran Steven Caldwell while also mentoring youngsters like Nick Hagglund. With Altidore, Giovinco and co. up top, TFC will surely score goals, but Perquis' ability to prevent them could be the difference between being a good team and a great team.
THE PRESSURE IS ON:  Michael Bradley. The U.S. Men's National Team midfielder is the lone holdover from TFC's 2014 "big three". Now recognized as captain, Bradley is widely viewed as the leader of this Toronto FC group. Last year's disappointment can be chalked up to a variety of reasons, fatigue from the World Cup being chiefly among them, but with a full offseason and a season under his belt, Bradley is charged with being the driver as the team pushes toward its first postseason appearance. 
OUTLOOK
Toronto FC's 2014 season was constantly weighed down by the expectations of having a roster full of international stars. With that experience in the back pocket, head coach Greg Vanney and the rest of the team aren't planning on letting that happen again.
TFC enter 2015 with just as much, if not more, pressure to succeed than in the season prior, as the offseason acquisitions of Sebastian Giovinco and Jozy Altidore have led to plenty of hopes and promise for 2015.
Vanney says that his current group is far from weighed down by the pressure of outside expectations. Having constructed a group with experience in the world's top leagues, Vanney says pressure is a common occurrence to those that make up TFC.
"We're just working hard and developing our identity," Vanney told SBI. "The expectations are what? For me, I put more expectations on myself than anyone else can imagine putting on me, so I'm not worried about that. These guys all lived in a world where there were expectations of day-in, day-out winning and keeping your team with either being a championship team, above relegation, whatever scenario. They came from real, real pressure and expectation.
"For us it's about our collective group meshing together, continuing to build on our style of play and our vision of the game and working hard every single day, selflessly, and we'll do that. We're confident in what we're capable of doing."
That confidence starts right up with the attacking duo of Altidore and Giovinco, who combine to provide TFC with lighting and thunder on the front end of the field. Both players are proven goalscorers, despite recent club struggles, and have demonstrated time and time again that they are viable options on the international stage.
While Altidore has made his name as a proper target forward, Giovinco provides plenty of versatility in terms of positioning and skillset. The diminutive Italian can be played as a true striker, out wide, or even in more of a deeper role, and Vanney says that Giovinco's ability to give different looks will be a major facet of the team's attack.
"By and large, he's a forward. That's what he does," Vanney said. "He can come from a little bit of a wider position as a forward, and he can come from different areas. From us, it's really about trying to get him balls in areas where he can make us better and where he can be successful where he can get looks on goal.
"It can vary along the way, depending on a number of factors, but we want him getting more than his fair share of touches to help us in terms of final passes, to help us in terms of finishing… He makes us dangerous in every way."
With the attack seemingly sorted, TFC have also done plenty to bolster the midfield, mainly the addition of experienced midfielder Benoit Cheyrou. The Frenchman comes to Toronto with boatloads of European experience, having plied his trade with Marseille of Ligue 1.
Forming a partnership with Michael Bradley, TFC will have plenty of leadership and guile in the middle of the field, and Vanney went as far as to back Cheyrou to be one of the team's most critical pieces this season.
"It's invaluable. My guess is that a lot of people don't know how good Benoit is," Vanney said. "Unless you followed the French league and you followed Marseille in particular. I think he'll be one of those players that catches people's eye with how smooth he is and how intelligent he is as a player. He and Michael complement each other very, very well.
"What's great is that we don't just have one leader. We have a captain in Michael, who is a very, very good leader, but he has the support of guys who help lead as well. Benoit is for sure one of those guys. You need that in a core group of players that can lead and sort of have the same vision of where we're going. He's going to surprise people who don't know him very well."
TFC also have a big-time leader on the backline in former captain Steven Caldwell. Following the departure of Doneil Henry, Caldwell will have a new running mate in centerback Damien Perquis.
The Polish international joins TFC following stints in France and Spain, most recently La Liga's Real Betis. As backline leaders, Caldwell and Perquis have spent the past few weeks mentoring up-and-comers Nick Hagglund and Eriq Zavaleta, who Vanney says he expects to see their fair share of game action throughout the season.
With a pair of veterans and a group of up-and-comers, Vanney feels strongly about his defensive unit, especially the partnership of Perquis and Caldwell.
"Over the last two-and-a-half weeks or so, they've started to work together and I think every day their pairing gets better," Vanney said. "They're starting to read the game very similarly and our line is connected and recognizing how high and how deep we need to be.
"It's good. Both of them have very strong voices, communication with the guys in front of them and also across to each other. That's always key. I felt that last year we needed another veteran centerback and I think, now that we have two, we're in a pretty good place."
With the team as assembled, TFC look poised to make their first postseason run in the club's history. Despite the optimism, Vanney was reluctant to say it's playoffs or bust for his side. Rather, the coach said that if the team can properly take care of business, the desired result is certainly attainable.
"We're very clear about the level and the caliber of our group. We know what we're capable of doing," Vanney said. "For us, it's more about the process than the outcome. If we take care of the process every single day, we're confident in what the outcome will be. That's what we have to focus on.I know a lot of people want to talk about reaching for the outcome first, but seasons are long and lots of things happen. We try not to talk about or get caught up in what our expected outcome is.
"We approach every day in training trying to get better, and this group is very good at that and they trust in their ability, our tactics and everything else that we will be where we need to be when the end of the season arrives as long as we take care of our business."
PROJECTED STARTING LINEUP