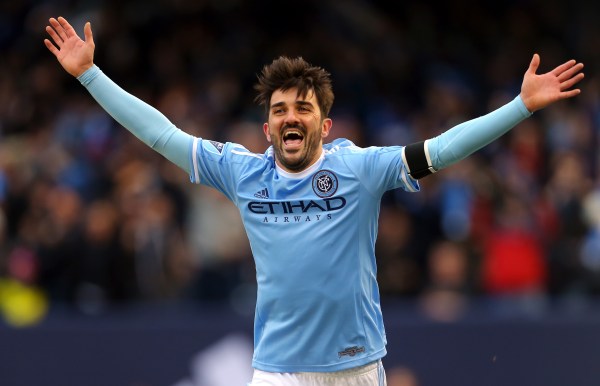 By FRANCO PANIZO
David Villa and New York City FC may have put on a show against the New England Revolution, but it was another task force that dominated much of the talk in Week 2 of the MLS season.
MLS referees grabbed much of the national spotlight for a number of controversial calls that directly affected the outcome of games. There were two harsh red cards for what were deemed denials of clear goal-scoring opportunities, a blown offside call that led to a winner, and a late and dramatic penalty kick that served as an equalizer in a back-and-forth affair.
Bringing more attention to those four decisions, and thus making them worse, was the fact that they impacted half of the week's round of games. With four MLS teams on a bye, there were only eight matches played this week and half of them were altered by incredulous calls that still have plenty of players and supporters seething.
As much as the match officials were at the center of the discussion, there were also team and individual performances worth learning from this week. Villa dazzled as he and NYCFC brought MLS to New York's five boroughs, and the San Jose Earthquakes pulled off an incredible and impressive upset in Seattle that still has some observers in disbelief.
Here are some things SBI is thinking about after Week 2 in MLS:
MLS REFEREES CONTINUE TO STRUGGLE WITH CONSISTENCY
Match-deciding mistakes happen in soccer. That's just the way it is in a sport that doesn't rely on the use of video reply.
But the frequency at which they happen in MLS is mind boggling if not downright infuriating. Four matches – entertaining matches, no less – were ruined in part because of poor calls from referees: David Gantar issued a dubious red card to Justin Morrow in Toronto FC's loss to the Columbus Crew, Jair Marrufo and his crew missed a blatant offside call on Blas Perez to help FC Dallas beat Sporting Kansas City, Allen Chapman awarded a baffling penalty kick that gave Real Salt Lake the lifeline it needed to tie the Philadelphia Union, and Mark Geiger sent off Jose Goncalves to erase almost any chance that the New England Revolution had of coming back against New York City FC.
Referee inconsistencies are not a new problem in MLS. They've been a longstanding issue that the league has tried to address over years, but things continue to stay largely the same. MLS commissioner Don Garber said he's hoping to see the league adopt the use of new technologies, including video replay, in an impromptu meeting with reporters in Week 1.
It's time to stop hoping and start doing.
VILLA STILL HAS WORLD-CLASS SKILLS
David Villa may be an aging star who has arrived in MLS for what is surely one of the final chapters of his storied career, but the Spanish striker still has it.
In NYCFC's 2-0 home win over the New England Revolution, Villa was a highlight reel onto himself. Yes, he scored the winner by weaving almost effortlessly through a crowd of defenders and set up the late insurance goal with some more magic on the ball, but he was also involved in much more of the game.
Villa was active and aggressive from the onset on Sunday, spearheading the attack and helping make up for the (once again) largely ineffective Adam Nemec. Plays were constantly running through Villa, who could've had a hat-trick if not for some stupendous work in goal from Bobby Shuttleworth. Villa even looked to be playing to the crowd late in the match, pulling of a number of flicks and tricks that drew plenty of oohs and aahs from those watching.
This wasn't the tame Villa we saw in Week 1, and that was a good thing for NYCFC.
QUESTIONS PERSIST ABOUT YANKEE STADIUM
Speaking of NYCFC, its first home game was a riveting success. Not only did more than 43,000 people turn up to a cold Yankee Stadium to watch the club pick up its first win, but the atmosphere they provided was a pleasant surprise, and the field held up well enough to earn positive reviews from both teams.
Still, one could not help but wonder how things will be at the stadium going forward. Will the same large crowds turn out on a consistent basis? If not, how much of the fun vibe that was witnessed Sunday will be lost in such a large baseball stadium? Can the field withstand a full season's worth of wear and tear from MLB and MLS games?
We won't really know for at least another few weeks, so the questions surrounding the club will remain despite its successful home opener.
EVANS EXPERIMENT PROVES COSTLY VS. EARTHQUAKES
The San Jose Earthquakes managed to go into Seattle and hang three goals on the Sounders, and it was experimental centerback Brad Evans who was directly involved in each of them.
The Sounders' defensive issues reared their ugly heads on Saturday, as the Earthquakes overcame a goal from Clint Dempsey 18 seconds in and second-half red card to Victor Bernardez to post a 3-2 win at CenturyLink Field. While San Jose deserves plenty of praise for its ability to go into Seattle and grind out impressive victory, it is the Sounders' mistakes that paved the way for that to happen.
Seattle were outdone by a number of miscues at the back by the veteran Evans, who first mistimed a cross to allow the Earthquakes to pull level before hitting a horrendous headed backpass that was picked off by Chris Wondolowski and smashed home. Capping off Evans' lousy night was his play on the third goal, as he was beaten by a simple run by Innocent Emeghara before slipping on the turf on the recovery attempt.
The Sounders entered the season thinking that Evans could provide a solution in the heart of the defense, but much work needs to be done for that to even be considered a possibility again.
—–
What did you take away from Week 1 in MLS? How should MLS address the referee inconsistencies? Think Yankee Stadium will continue to serve as a suitable home for NYCFC?
Share your thoughts below.