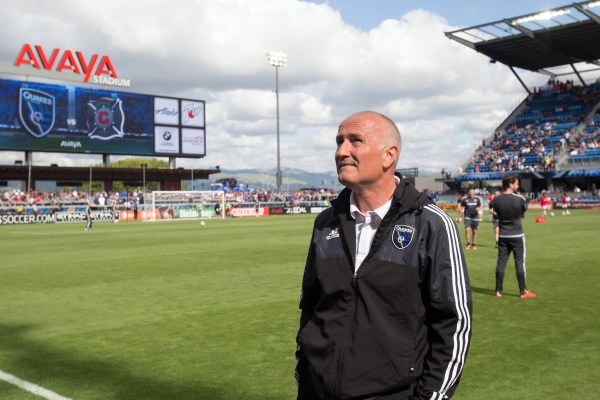 Photo by Kelley L Cox/USA Today Sports
By FRANCO PANIZO
The San Jose Earthquakes finally have a shiny stadium to call their own.
After years of watching on as the majority of the other teams in MLS opened soccer-specific homes, the Earthquakes had their turn this weekend. They played their first official match at Avaya Stadium on Sunday, and rewarded the sell-out crowd of 18,000 with two early goals on their way to a 2-1 victory over former San Jose coach Frank Yallop and the Chicago Fire. It was an ideal start for the Earthquakes in their new home, and one that both the club and its fans have been dreaming about for a long time.
Week 3 was far from being all about the Earthquakes' new home, however. FC Dallas continued its perfect start to the season with another solid performance, and the Vancouver Whitecaps once again received a major contribution from a player who is looking like an early candidate for Newcomer of the Year.
Here are some things SBI is taking away from Week 3 in MLS:
FIRE'S JOHNSON COMING OUT OF THE GATES SLOWLY
The Chicago Fire have a lot of problems that need fixing. Sean Johnson's play in goal is one of them.
Johnson continued his early-season struggles in the 2-1 loss to the Earthquakes on Sunday, struggling with his handling and decision-making. He was partially at fault for San Jose's early opener and directly to blame for Ty Harden's winner, spilling an initial shot right in goal. Johnson also didn't look great in Week 1 against the LA Galaxy, and given Jon Busch's solid outing in Week 2, you have to think Frank Yallop will at least consider a change if this continues for the 0-3 club.
RED BULLS MISSING A STAR INGREDIENT
As much as the New York Red Bulls looked like a cohesive unit with familiar players showing off new dimensions in their games, there still felt like something was missing when they soundly beat D.C. United, 2-0, on Sunday. What they lacked was a true star player, one not necessarily in the mold of Thierry Henry but that is capable of producing a "wow" moment with magic on the field.
New York City FC has one with David Villa, Orlando City has one with Kaka, and the Red Bulls could use one if they want to make a serious dent in the crowded sports landscape in New York. Yes, the club will win over the fans if it piles up the victories, but signing a big-name Designated Player in the summer would also help put butts in seats.
ANOTHER GEM IN SAN JOSE
One of the biggest takeaways from this round of action was undoubtedly the official opening of the San Jose Earthquakes' Avaya Stadium. While the venue might be among the smaller soccer-specific homes in MLS, it looks great with its unique style of steep seating colored in different shades of blue. The open-end, horseshoe design was something some observers were skeptical about, but the stadium board and outdoor bar — the largest in North America — more than eased concerns about how it would affect the gameday experience.
The Earthquakes did a good job with constructing their home. Now, they must continue to build on that momentum with results on the field.
FC DALLAS CONTINUING TO SHINE
FC Dallas may have needed the Philadelphia Union to go down a man, but the club continues to impress.
FC Dallas moved to a perfect and unmatched 3-0 record on Saturday by disposing of the Union, 2-0, at PPL Park. Oscar Pareja's men were under fire during much of the first half, but they never conceded or lost their will to fight. Zach Pfeffer's red card for a reckless elbow on Mauro Diaz then opened up the game perfectly for FC Dallas, which continues to get contributions from key players like Fabian Castillo and reserves like Ryan Hollingshead.
Pareja has his team playing well — FC Dallas smartly played keep-away during one point in the second half when the Union refused to come out and press despite being down two goals — and the rest of the league should be on high alert.
RIVERO FITTING IN NICELY WITH WHITECAPS
Three games, three goals. It's safe to say that Octavio Rivero is feeling right at home with the Vancouver Whitecaps.
Rivero broke the hearts of Orlando fans on Saturday, scoring a last-gasp winner in a 1-0 road triumph over Orlando City. The Uruguayan forward failed to finish on a couple of other good looks, including a one-on-one vs. Donovan Ricketts in the first half, but remained focused and found his reward with an impressive flicked header in second-half stoppage time.
Truth be told, Rivero has not been the most clinical forward three weeks into the season. He has wasted chances in each of Vancouver's three games, but has still managed to repeatedly put himself in good positions in and around the penalty area. He might not be perfect, but the Whitecaps will more than take the good with the bad after seeing how much they needed a forward with this type of nose for goal last year.
—–
Are you a fan of Avaya Stadium? Agree that the Red Bulls need to address their lack of star power? How impressed are you by FC Dallas' start?
Share your thoughts below.