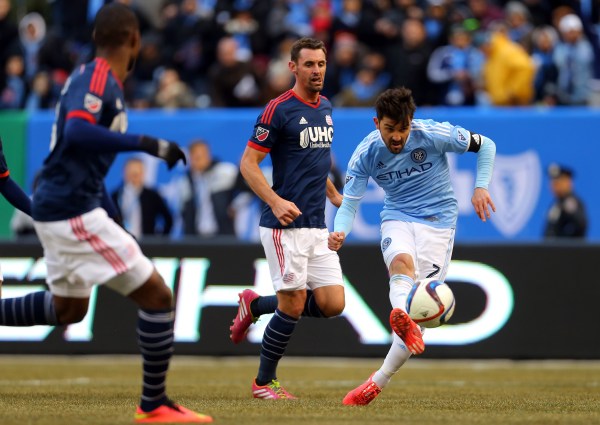 photo by Adam Hunger/USA Today Sports
By MICHAEL PENG
NEW YORK — David Villa sprinted toward the home plate at Yankee Stadium, where the iconic "NY" interlock laid adjacent to his new club's seal, and raised his arms in elation.
And why not? After all, he had just scored the first MLS goal in the legendary venue's history to put New York City FC on the board against the New England Revolution before taking home a 2-0 victory in the expansion club's historic home opener.
Villa's strike came in the 19th minute after he connected with midfielder Ned Grabavoy on a give-and-go to get past the last line of Revolution defenders before curling the ball past New England goalkeeper Bobby Shuttleworth into the right side of the net.
Substitute Patrick Mullins tacked on the other score in the 84th minute — seconds after he entered the match — when Villa found him streaking along the run into the box.
"I'm very pleased with the performance today," Villa said through an interpreter in the postgame press conference. "We are still growing as a new team, but we are delighted we scored two goals… We have to thank the fans, in a cold day like this, to give us the support that they gave us."
NYCFC took 20 shots in the contest — nine of them on goal — and even had the luxury of playing with a numbers advantage after New England's Jose Goncalves was sent off for a challenge in the 66th minute on Khiry Shelton, who had just subbed on.
The deficit could have been much larger for New England if it wasn't for Shuttleworth's seven saves, which featured a few that came in critical situations.
The Revs also had several chances to tie up the game in the first half but could not find an equalizer despite taking nine shots.
"I thought we were being very defensive," Kreis said. "We scored the early goal, which could be good, but it can be also be bad in our game, because often times you'll see a team that scores an early goal that thinks they now need to defend for the rest of the match, that can't be our mindset."
NYCFC controlled the tempo and took back the momentum in the second half and limited the reigning Eastern Conference champions to just two shots before Mullins — who scored four goals for the Revs last season before joining NYCFC via the expansion draft — put the game away for good.
NYCFC will visit Colorado Rapids on March 21, while the Revs — who remain scoreless on the season — will look to bounce back that same day against the Montreal Impact.