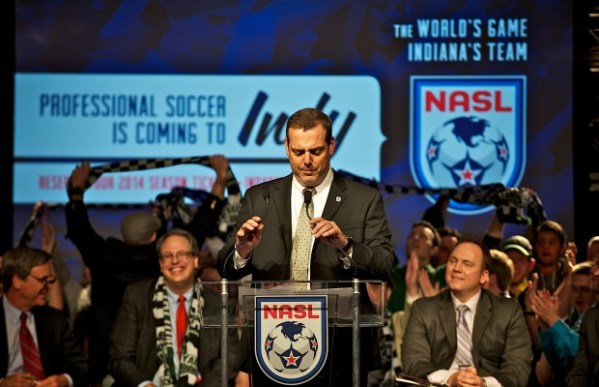 By RYAN TOLMICH
Entering the league's fifth season, the NASL is set to field its eleventh team team: the Jacksonville Armada. However, talk surrounding a pair of franchises waiting in the wings has remained quiet in recent months.
The Virginia Cavalry and Oklahoma City FC have been announced by the league as future expansion teams, and both teams had originally announced that they were set to begin play in 2015. However, those plans did not come to pass for a variety of reasons, casting doubt over the team's immediate future.
In the case of Oklahoma City, issues involving ownership derailed the team's plans, as one of the partners in the team, Tim McLaughlin, had bought a 50 percent ownership stake in the rival franchise Oklahoma City Energy. For the Cavalry, constant stadium construction issues and ownership reorganizations have caused delay after delay, pushing the team's debut back to 2016.
NASL Commissioner Bill Peterson admits that things haven't quite gone to plan with the development of his latest expansion sides, while also making it clear the league plans to keep things close to the vest while ownership is sorted out.
"We haven't announced any developments because we really don't want to have to go through what we've had to go through again," Peterson told SBI. "The expansion process is a complicated process, one that we take very seriously. We move cautiously as we go through the process and it can come undone at any point. Unfortunately, with both of those situations, the teams actually announced that they were going to play.
"In Virginia's case, maybe it was a little premature. In Oklahoma's case, something happened that I've never seen before in my life. Both groups are working on reorganizing and getting things in place."
Peterson also says that one of those teams is further along than the other, although the commissioner would not say which. Regardless, the league remains both focused and optimistic on pushing both teams toward joining the league, while also continuing conversations with new markets.
"One of them is further a long than the other and we could see them (make an announcement) in maybe a month, maybe six weeks," Peterson said. "We're pretty optimistic and there's a lot of work going on, but it's not done yet so we're not going to announce it or talk too much about it.
"The other one is a little bit further behind still and focused on getting back in, but there's another set of circumstances in that could interfere with all of this that might not work out. In addition to that, we have multiple conversations going on in different parts of North America with groups that are going through the process. Some of those are looking very favorable, but they're not at the finish line. "
The other elephant in the room remains the league's sanctioning within U.S. Soccer, which requires leagues to have a presence in three time zones by year six, or the 2016 NASL season. Regardless of sanctioning, Peterson remains unconcerned, and insists the league will continue to handle things on their time in pursuit of the league's goal of 18-20 teams.
"We're just going about our business, but this requirement to have teams on the west coast will take care of itself," Peterson said. "We're not going to make decisions just to satisfy that requirement. We're going to make decisions that are best for the overall growth of the league, but I can tell you that they will end up satisfying that requirement, so that's not something we even think about.
"It's unfortunate with Virginia and Oklahoma City, but we're just getting started here and it's not always going to work out exactly as you expect it to because we have more interest than we've ever had with quality ownership groups that get the vision and want to be in this league. We're going to get to 18 to 20 teams soon enough. I don't know exactly when, there's no deadline, but we'll get there soon enough."