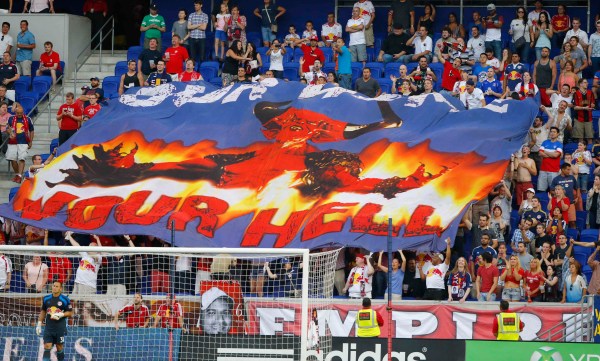 photo by Jim O'Connor/USA Today Sports
By FRANCO PANIZO
HANOVER, N.J. — One of the last times the New York Red Bulls took to the field at Red Bull Arena, a rambunctious crowd watched on in ecstasy as the club pulled off a shut-out victory against arch-rivals D.C. United in the playoffs last November.
Fast forward to today, and there's now a cloud of uncertainty, one that even the team feels, over what to expect from many of those same fans in Sunday's home opener.
Much has changed for the Red Bulls since the end of last season, and it's made for extreme tension between the club and its supporters. There's a bitterness that still resides amongst a sizable portion of the fanbase over new sporting director Ali Curtis' controversial decision to fire beloved head coach Mike Petke. This led to the construction of a fan-paid billboard off of a highway near Red Bull Arena depicting an image of Petke holding the 2013 Supporters' Shield and the words "Red Bull Out" at the top.
It's an ugly situation, and one that has New York players unsure of what kind of atmosphere will greet them in this weekend's home game against D.C. United.
"I really don't know what to expect," goalkeeper Luis Robles told SBI. "The only thing that I can gameplan for is the other team. As far as what we have out there in the stands, I just hope, regardless of everything that went on, the fans are willing to give these guys a chance because we a have a good group of guys here and there's only so much we can influence.
"The one thing that we can influence is the performance and the effort we give on the field, and I hope that they're willing to give us that chance."
For the Red Bulls, the Eastern Conference affair will provide them the first opportunity to impress the fans in an up-close-and-personal setting. The Red Bulls started the season with a respectable 1-1 road draw vs. Sporting Kansas City, but it was always going to be the first home game of 2015 that revealed just how forgiving the upset fans are over what transpired in the offseason.
If the Red Bulls' last local appearance is any indication, things might go over smoother than some believe. At the club's jersey unveiling at Wesbter Hall in Manhattan earlier this month, there was a real positive energy from the hordes of fans that packed in to meet and greet the players and new staff on the cusp of the season opener.
Curtis was tactfully not introduced on stage with the coaches and team, but he was in attendance and listened to those supporters who wanted to express their concerns. All in all, it was a pleasant night that largely contrasted the venomous and profane town hall meeting held by the club for its fans in January.
It also may have given the Red Bulls a glimmer of hope that Sunday could turn out to be a positive experience.
"It sounds like the crowd is going to be big," said Marsch. "I think there'll be energy and I think there'll be emotion from everything that happened in the offseason to everything of what this game means and now trying to learn what this team is about. I think it'll be pretty awesome, frankly, and I'm excited about it.
"I think Red Bull Arena is the best stadium in the league, and when it's rocking it's an amazing place to be and I feel so privileged to be able to call it home, so I'm looking forward to it."
Much of New York's roster has changed from last year to now, but the veteran core that remains and consists of the likes of Robles, captain Dax McCarty, and Bradley Wright-Phillips is plenty cognizant of what Sunday could be and represent.
The players have admittedly spoken about that amongst themselves over the last few weeks, and they're going into the home opener with a slight different mentality than usual.
Yes, they want to win three points, but they also want to win back the supporters whose passion has transformed into apathy and anger.
"We want the fanbase to believe in this team and believe in what we want to accomplish," said Robles. "I know in the very beginning it's going to be difficult, but we expect the adversity, we expect the unexpected in this moment. Just from a personal level, we've got a good fanbase and I know that they've been susceptible to a lot of disappointment.
"But I hope they give us an opportunity to show what we have and what we're capable of."