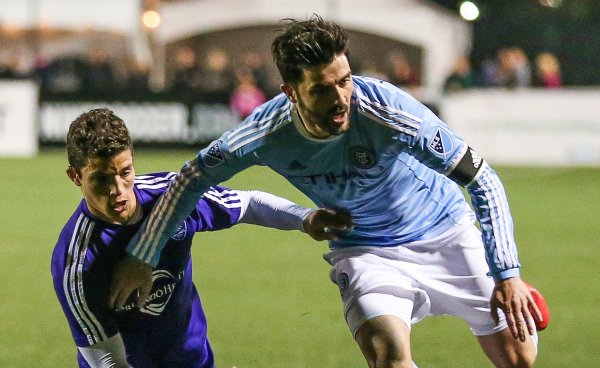 By MIKE GRAMAJO
SANFORD, Fla. — Adrian Heath may have waited years for his Major League Soccer debut, but even the thought of that isn't stopping him from completing his first task at hand.
That task? Stopping David Villa
When Heath's Orlando City takes on New York City FC on Sunday, there will be plenty of familiar faces in light blue, such as Mix Diskerud, Ned Grabavoy and Chris Wingert, but no player will draw as much attention from Orlando City than the World Cup-winning star striker leading NYCFC's attack.
"It's going to be difficult," Heath told reporters. "He's been one of the great players, and great forwards of the last 10-15 years. You have to look at his record, playing for Spain, winning World Cups, playing for Barcelona, winning European cups. We won't put anybody on him man-for-man, but we've spoke about how we think he'll play."
With several positions already locked in Heath's 4-2-3-1 formation, one main area of concern is the back line, which hasn't fully gelled and still has one missing link on who will play along side Aurelien Collin in the center back role. Seb Hines and Sean St. Ledger are currently competing for that last defensive spot, but the decision on who gets the opportunity to halt Villa is shaping up to be a game time decision.
"I always put pressure on myself to try to be successful," added Heath. "It's a little bit of cat and mouse going on. I'm not quite sure how they're going to set up, and I don't think they know how we're going to set up, so it'll be interesting."
As much as he believes Villa is dangerous, Orlando City goalkeeper Donovan Ricketts believes focusing too much on Villa is not the ingredient to a successful first match.
"Tomorrow we have no room for mistakes and errors," said Ricketts. "We're focusing on the entire position. We have people in place to deal with whatever they throw at us, so our focus is not on one guy although he's a quality player."
Several positions are locked for Sunday's game. Amobi Okugo potentially might tag along with Cristian Higuita in the center midfield position. Designated Players Kaka and Carlos Rivas are pinned to play in the attacking midfield along with Kevin Molino. Bryan Rochez is a heavy favorite to start as striker. That leaves Heath with the decision to place either St. Ledger or Hines in that last defensive roles which are taken by Shea, Collin and Ramos.
"I think it's [defense] best that it can be at this stage this season," concluded Ricketts. "We can improve, but the fist game I think we're ready. The responsibility is on the player to do well. We're focused on stopping them as a team."