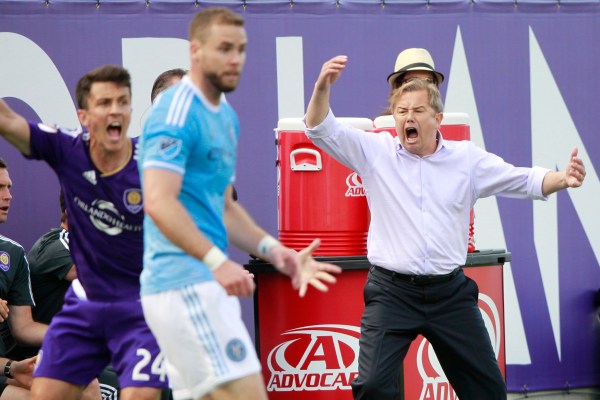 Photo by Kim Klement/USA TODAY Sports
By FRANCO PANIZO
ORLANDO, Fla. — Some called for penalty kicks. Others for simulation. Adrian Heath said they may have been neither.
Orlando City and New York City FC opened their seasons by playing to a 1-1 draw at the Citrus Bowl on Sunday, but a big talking point after the match was a number of plays in which Orlando players were deemed of diving.
On three separate instances, referee Alan Kelly showed Lions players yellow cards for what he believed to be simulation. The first came on a play in the penalty area by Brek Shea in the 29th minute, followed by one involving Kevin Molino near midfield in the 40th and another that saw Cristian Higuita go down in the 18-yard box in the 78th.
While NYCFC players ardently shouted for Orlando's players to be cautioned, the home crowd of 62,000-plus clamored for penalties. Heath, however, thought that play could have just resumed without either bookings or penalty kicks.
"I think we're making the game really, really difficult for referees. I really do," said the Orlando City head coach. "It doesn't mean that every time somebody falls over it's simulation. It's something that we're going to have to be really, really careful about because making decisions is hard within split second but then having to think, 'Did he try to dive? Did he not? We're just making it more difficult than it actually is."
MLS has tried to really crack down on simulation in recent years, even retroactively punishing players who got away with dives in matches. It is something the league wants to weed out of the game, and that referees are studying constantly.
Still, Heath believes there may be an overemphasis on it all.
"You look at the one with Kevin Molino, he's actually been pushed and tried to stay on his feet and he does fall over and he gets booked for simulation," said Heath. "I'd like to see Cristian Higuita's one again in the penalty area. From where I was it look like he got touched, but we'll have to have a look at it again to determine.
"I'm not having a go at the referees. I think we're making life more difficult for them. It's hard enough as it is without every time having to guess what the players are thinking."
NYCFC forward David Villa – who suffered a foul that resulted in a red card for Orlando centerback Aurelien Collin – echoed Heath's sentiments that referees don't have it easy.
"I don't really like analyzing the referees. They have a tough job," said Villa when asked about the officiating. "I know a lot of times we make life difficult for them on the field, especially me, due to the heat of the battle. But they have a tough job, just like us. Mistakes happen. Like I said, I don't like to talk poorly of the referees."