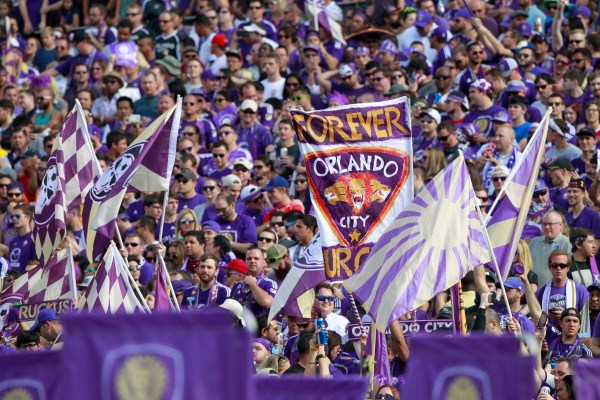 Photo by Kim Klement/USA Today Sports
By FRANCO PANIZO
ORLANDO, Fla. — Fourteen years after leaving Florida, MLS saw Orlando City bring first-division soccer back to the Sunshine State with a special day that not many could have predicted.
Orlando City officially started its MLS journey in incredible and memorable fashion on Sunday, as a purple-clad crowd of 62,510 fans filed into the Citrus Bowl to watch the Lions take on New York City FC. That the game between the two expansion clubs ended in a 1-1 draw following a dramatic free kick goal from Kaka was overshadowed in many ways by the support Orlando received, as thousands of local fans arrived early and loudly to the renovated stadium to show their passion and pride.
From attending tailgates to riding pedal pubs to playing FIFA 15, Orlando City's faithful had a number of activities from which to enjoy. It all made for a fun and rocking atmosphere hours before kickoff, one that carried over into a game that has been the talk of the town for much of the past week.
"Even in England and with the international games, that's one of the best I've been in," said left back Brek Shea. "An amazing crowd, to see all that purple and people screaming. For a team that hasn't even played one minute (in MLS) yet until today, for that many people to come out and support us is unreal."
As the hordes of people filed into the Citrus Bowl, comparisons to Seattle began. The Sounders have routinely drawn north of 50,000 fans since their inception, but not even the Pacific Northwest city that many view as the soccer capital of the United States pulled in that many people for its inaugural match,
Whatever the reason, Orlando City fans dawning the various shades of purple turned up. Some wore scarves, others jerseys and hats. What started as a dream a few years ago had now become a reality.
"It was something to see before the game when we came out, and it's something I'll remember for an awful long time," said Orlando City head coach Adrian Heath.
Added centerback Aurelien Collin: "I've played (in front of) more people than this, but this was one of the best atmospheres I had in my life."
Even MLS commissioner Don Garber could not hide his excitement. Garber, who has been at the forefront of MLS's impressive expansion efforts, had a noticeable glow while talking about Orlando City. The support the club drummed up was nothing like he could have ever imagined, especially not in 2001 when the decision was made to contract both Florida MLS clubs, the Miami Fusion and Tampa Bay Mutiny.
"It really gives you a bounce in your step after so many years to see 62,000 people here," said Garber. "I was told by the owner they thought they could've had (80,000) if they had enough seats, so that's pretty cool.
"We've got something special going on here."
That was evident throughout the 90 minutes in Orlando. While the match between the Lions and NYCFC was far from pretty, the same could not be said about the environment. Fans cheered hard for their club, with a giant tifo claiming superiority over the other Florida clubs unfurled, a dozen or more flags waving through the air, and set pieces being clapped for with a unity that would make even the best synchronized swimmers jealous.
Even when NYCFC took the lead, Orlando's supporters remained determined. Then, after Kaka lined up the 91st-minute free kick that crashed off of Jeb Brovsky and rerouted towards goal, the crowd went into a frenzy that punctuated a remarkable and special day for both the club and its fans.
"For me, scoring the goal was special. I've scored a lot of goals in my career, but I have to say this is one of the most emotional ones I've ever scored," said Kaka. "I was able to achieve that, scoring the first MLS goal for this club was and I was able to help my teammates and my club. The support from the fans was fantastic. Seeing this stadium full like this, with all the people – Americans, Latinos, Brazilians, all types – participating in this game for Orlando City, I think we're going to do a lot of good things for this club."
Orlando's first chapter in MLS has been written, with a special atmosphere highlighting a special day for both the club and its fans.