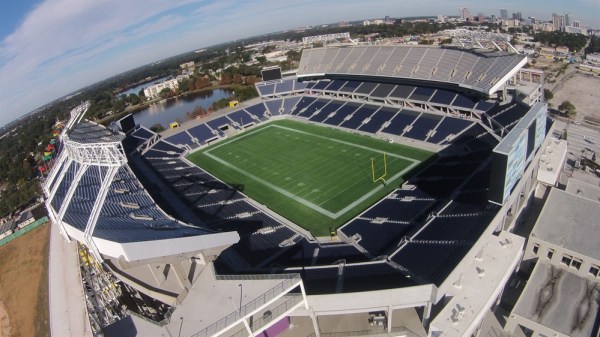 By MIKE GRAMAJO
ORLANDO — When Orlando City SC announced earlier this week they officially filled the Citrus Bowl with 60,000 fans, that proved to be only a bluff of what their true potential was.
That potential was achieved on Wednesday during the teams media day when club president Phil Rawlins announced that 2,000 standing-room only seats will be added to accommodate Orlando City's high demand of tickets for Sunday's inaugural game vs. New York City FC.
"We've been able to work out a deal to add 2,000 more standing-room only tickets," Rawlins told reporters. "They will be a first come, first serve base. So total capacity for our game on Sunday will be sold-out 62,000. That's a testament to the interest in the team and our fan support. We're delighted to have a great fan base and tremendous supporters to witness the event."
With the Citrus Bowl being capped at 20,000 seats after the home opener, Rawlins also said the club is close to selling out its second game on March 21st when they host the Vancouver Whitecaps.
On the season ticket front, sources have confirmed with SBI that there are only handful of season tickets left before the club reaches its limit of 14,000.
Here are some more notes from Orlando City's media day:
STARTING XI LOOKING TO TAKE FORM AHEAD OF SUNDAY
Adrian Heath has the depth in his squad leading up to Sunday, and is inching closer to securing its identity on the field.
Colombians Carlos Rivas (shoulder) and Cristian Higuita (groin) actively partook in the teams practice after sustaining knocks during preseason. Higuita, who's speculated to start alongside Amobi Okugo in the midfield, suffered from a groin injury during the team's run at the Carolina Challenge Cup. Rivas suffered a shoulder injury, which kept him on the sidelines for nearly the entire preseason.
With several positions already locked for opening day on Sunday, there's one forward that will not see action against NYCFC. Heath told reporters that striker Marin Paterson, who's on loan from Huddersfield Town, will not see action this weekend after tweaking his hamstring during practice earlier this week.
Heath has ran with a 4-2-3-1 formation for most of preseason. When asked on who might start alongside Aurelien Collin as the other center back, Heath said that's still up in the air.
The Orlando City coach hinted that Seb Hines or Sean St. Ledger might get the nod, while also announcing that St. Ledger is still not signed but a deal could be completed later this week.
DISNEY AND ORLANDO CITY ANNOUNCE BUSINESS PARTNERSHIP
The regions hottest sports team is teaming up with one of the world's largest company.
Orlando City announced on Wednesday they agreed to a multi-year to partner with the Walt Disney World Resort.
"We've been in touch with Disney for some time now," Rawlins told SBI. "It's something that kicked off by our work down at the ESPN Wide World of Sports Complex. We're delighted to have such a great partner. It's something we've been working on for several months."
OCSC played its entire, and final, USL season at Disney's ESPN Wide World of Sports Complex in 2014. Orlando City aren't the only soccer teams Mickey Mouse has partnered with, playing host to Italian powerhouse AS Roma during their winter and summer breaks.
— —
What do you think of Orlando City's buzz surrounding its home opener? Do you think they'll be able to sell out games during the regular season? How do you think they'll do on Sunday vs. NYCFC?
Share your thoughts below.